The offer to admit more refugees meets the European Commission's stated goal of letting in at least 50,000 refugees over the next two years in a bid to discourage them from making the risky Mediterranean crossing.
"With over 34,400 new resettlement pledges received so far, I welcome the strong commitment shown by member states to reduce irregular and dangerous routes and enhance safe and legal pathways, showing solidarity with host countries outside the EU," EU migration commissioner Dimitris Avramopoulos said.
He also held out hope that Poland, Hungary and the Czech Republic will "revise their position and start relocating refugees" who managed to reach Greece and Italy under the existing quota system, warning of legal action if they don't.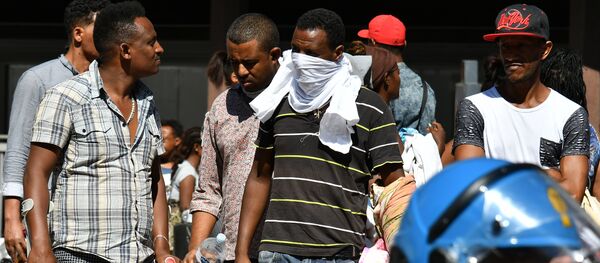 4 October 2017, 13:59 GMT
Europe is currently looking for ways to tackle a major
migrant crisis
as thousands of people are traveling across the Mediterranean Sea from conflict-torn countries in North Africa, the Middle East, and Central and South Asia, to reach European shores.
Many blame this unprecedented exodus on major European powers, saying that their policies have sparked a surge in terrorism and war in conflict-ridden regions, forcing more people to flee their homes and seek asylum abroad.
READ MORE: Rights and Obligations: All EU States Must Heed 'Command Decisions' on Refugees
UN High Commissioner for Human Rights Zeid Ra'ad al-Hussein has described the plight of migrants detained in Libya as "an outrage to the conscience of humanity."