The Israeli military chief of staff, Lieutenant General Gadi Eisenkot, has voiced Tel Aviv's readiness to "exchange experience with the moderate Arab countries and exchange intelligence information to face Iran."
When asked whether the information was shared with Riyadh, Eisenkot told Saudi-run Elaph news site, "we are ready to share information if necessary. There are many common interests between us and them," and emphasized that Tel Aviv and Riyadh had never fought each other.
Eisenkot has described Tehran as "the biggest threat to the region," — a claim repeatedly denied by Iran as groundless — adding that the stances of Israel and Saudi Arabia on the issue are similar.
"Iran seeks to take control of the Middle East, creating a Shiite crescent from Lebanon to Iran, and then from the Gulf to the Red Sea," Eisenkot has claimed, adding, "We must prevent this from happening."
After accusing Iran of supplying weapons to Hezbollah Shiite movement, the IDF chief has emphasized that Israel has no intention to launch an attack on the Lebanon-based group.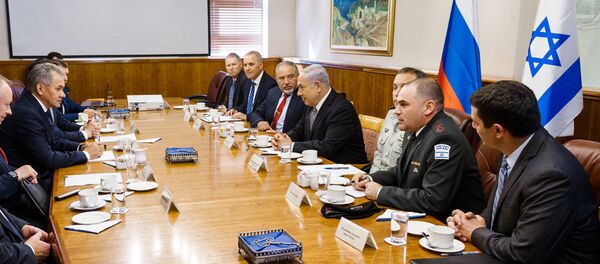 17 October 2017, 13:37 GMT
Despite Tel Aviv and Riyadh having no official diplomatic ties, the Israeli army has confirmed the general's statement made in the first ever interview the country's official gave to a Saudi media outlet, on the readiness to share intelligence with Riyadh.
Since the 1979 Islamic Revolution in Iran, Tel Aviv and Tehran have had no diplomatic relations, with the Islamic Republic refusing to recognize the legitimacy of the State of Israel established in 1948.
READ MORE: Saudi Prince Calls Iran's Alleged Supply of Missiles to Houthis 'Aggression'
The relations of Saudi Arabia and Iran have also been complicated and have further deteriorated in the wake of the Yemeni Houthi rebels' missile launch targeting Riyadh. While the Saudi-led coalition that has been conducting a military campaign in Yemen since 2015 accused Iran of allegedly providing Houthis with weapons, Tehran has denied the claims and emphasized that Riyadh is wrong to consider the Islamic Republic its "enemy," while believing that Israel and the US are its "friends."