"F**K TRUMP AND F**K YOU FOR VOTING FOR HIM," reads the sticker on the white Sierra truck.
© Screenshot/Facebook
Screenshot of Fort Bend County Sheriff Troy Nehls Facebook post on anti-Trump decal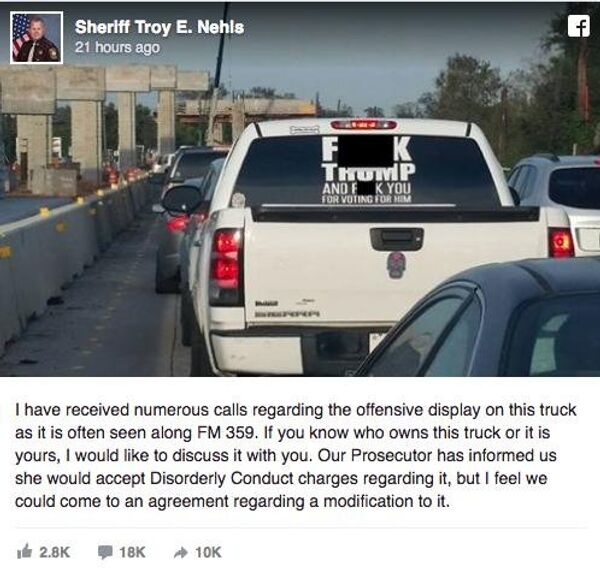 Screenshot of Fort Bend County Sheriff Troy Nehls Facebook post on anti-Trump decal
"I have received numerous calls regarding the offensive display on this truck as it is often seen along FM 359," Nehls wrote on his sheriff Facebook page. "If you know who owns this truck or it is yours, I would like to discuss it with you."
But what caused outrage was Nehls statement that per the station's prosecutor "she would accept disorderly conduct charges regarding it."
Cue the enraged netizens.
"Hey Sheriff Snowflake, how about you get out and fight some real crimes?" wrote a commenter. "I'm sure the citizens that pay your salary would appreciate you doing your job instead of whatever this is."
"Interesting… your cop cars have 'in god we trust' smeared all over them — can I file a disorderly conduct against you?" another critic wrote. "As an atheist, it annoys and irritates me to see that! Please advise! I'm feeling really offended right now."
Even the ACLU Texas chapter got in on the frenzy.
"Constitutional Law 101: You can't ban speech just because it has 'f@ck' in it," the organization commented. "Hey truck owner, feel free to contact the ACLU of Texas."
Hours after the post continued to rack in more comments, Nehls ultimately chose to schedule a press conference to address the issue at hand — he took a step back from the idea of even filing charges.
"We have not threatened anybody with arrest. We have not written any citations," Nehls told reporters. "But I think now it would be a good time to have meaningful dialogue with that person and express the concerns out there regarding the language on the truck."
According to the official, he just wants to avoid any road rage scenarios.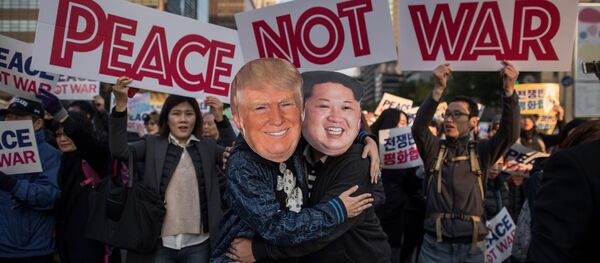 5 November 2017, 13:32 GMT
"Anybody traveling down the road that is behind that truck may have voted for Trump [and] that is where we might see a breach of the peace," the sheriff explained. "I don't want to see anything happen to anyone. With people's… mindset today, that's the last thing we need."
Speaking to the Houston Chronicle, Karen Fonseca, the owner of the hotly debated truck, said the decal is "not to cause hate or animosity."
"It's just our freedom of speech and we're exercising it," she said.
Though Fonseca has been confronted about the sticker, she says it's never caused too big of an issue. In fact, the Texas resident said most people will shake their head or just take a picture of it.
In the end, the only way the decal is coming down is if the weather washes it away, says Fonseca's husband, Mike.
"Unless [Nehls] can show me where it says that in the law book, it's not coming down until the weather takes it down or I replace it with something else," he told local station KHOU.