MOSCOW (Sputnik) – Russian Culture Minister Vladimir Medinsky told Sputnik he did not consider possible the continuation of inter-museum relations with the Netherlands if the country does not return the collection of ancient Scythian gold to Crimea.
"If this decision enters into force I will be unable to authorize any exhibitions on the territory of a country where a dangerous precedent of seizing cultural heritage is being created," the minister said.
The scandal over the valuable collection totaling 2,000 pieces of ancient gold artifacts from Crimea sparked off over the question who to return the collection to. The pieces from Crimea have been on loan by the Allard Pierson Museum in Amsterdam since in February 2014, when the Crimean Peninsula was a part of Ukraine. After the peninsula voted to leave Ukraine in a March 2014 referendum and reunite with Russia, the Dutch museum refused to turn over the collection to Crimea.
Russia argues that the refusal to return the artifacts to the place where they were found and exhibited for years violates international laws and rules that regulate collection exchanges between museums.
© AP Photo / Peter Dejong
A Scythian gold helmet from the fourth century B.C. is displayed as part of the exhibit called The Crimea - Gold and Secrets of the Black Sea, at Allard Pierson historical museum in Amsterdam Friday April 4, 2014. The museum has gotten more than the bronze swords, golden helmets and precious gems it bargained for as it is unsure where to return the collection after Russia annexed Crimea. (AP Photo/Peter Dejong)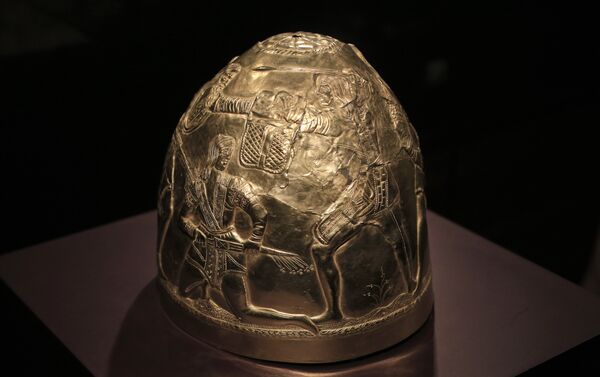 © AP Photo / Peter Dejong
A Scythian gold helmet from the fourth century B.C. is displayed as part of the exhibit called The Crimea - Gold and Secrets of the Black Sea, at Allard Pierson historical museum in Amsterdam Friday April 4, 2014. The museum has gotten more than the bronze swords, golden helmets and precious gems it bargained for as it is unsure where to return the collection after Russia annexed Crimea. (AP Photo/Peter Dejong)
© AP Photo / Peter Dejong
A Chinese lacquer box from the first century A.D., a burial gift for a Late-Scythian woman, is displayed as part of the exhibit called The Crimea - Gold and Secrets of the Black Sea, at Allard Pierson historical museum in Amsterdam Friday April 4, 2014. The museum has gotten more than the bronze swords, golden helmets and precious gems it bargained as it is unsure where to return the collection after Russia annexed Crimea. (AP Photo/Peter Dejong)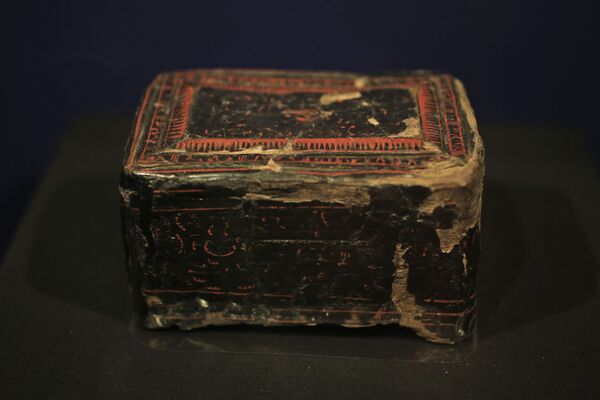 © AP Photo / Peter Dejong
A Chinese lacquer box from the first century A.D., a burial gift for a Late-Scythian woman, is displayed as part of the exhibit called The Crimea - Gold and Secrets of the Black Sea, at Allard Pierson historical museum in Amsterdam Friday April 4, 2014. The museum has gotten more than the bronze swords, golden helmets and precious gems it bargained as it is unsure where to return the collection after Russia annexed Crimea. (AP Photo/Peter Dejong)
© Sputnik / Dmitry Korobeinikov
The exhibition "The Golden Deer of Eurasia", which the State History Museum in Moscow hosted in 2003, demonstrated samples of Scythian jewelry from its own depository and the State Hermitage Museum Gold Depository, and the latest finds of the Ufa archeological expedition. One of the exhibits, a decorative gold figurine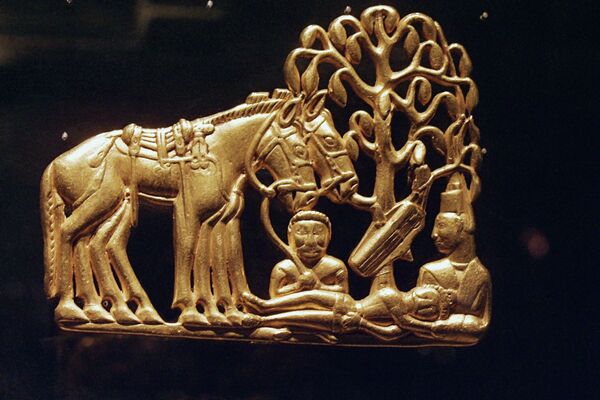 © Sputnik / Dmitry Korobeinikov
The exhibition "The Golden Deer of Eurasia", which the State History Museum in Moscow hosted in 2003, demonstrated samples of Scythian jewelry from its own depository and the State Hermitage Museum Gold Depository, and the latest finds of the Ufa archeological expedition. One of the exhibits, a decorative gold figurine
© AP Photo / Peter Dejong
A grave inventory of a Late-Scythian elite woman from the first century A.D., is displayed as part of the exhibit called The Crimea - Gold and Secrets of the Black Sea, at Allard Pierson historical museum in Amsterdam Friday April 4, 2014. The museum has gotten more than the bronze swords, golden helmets and precious gems it bargained for as it is unsure where to return the collection after Russia annexed Crimea. (AP Photo/Peter Dejong)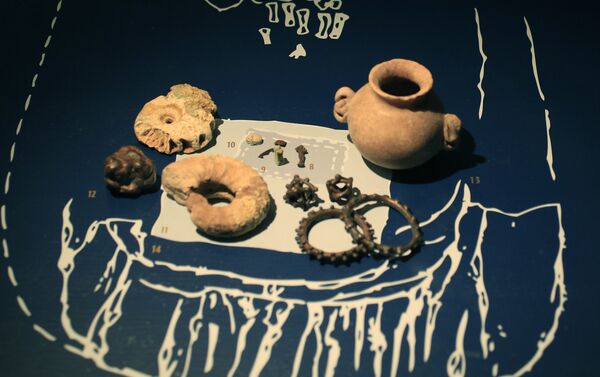 © AP Photo / Peter Dejong
A grave inventory of a Late-Scythian elite woman from the first century A.D., is displayed as part of the exhibit called The Crimea - Gold and Secrets of the Black Sea, at Allard Pierson historical museum in Amsterdam Friday April 4, 2014. The museum has gotten more than the bronze swords, golden helmets and precious gems it bargained for as it is unsure where to return the collection after Russia annexed Crimea. (AP Photo/Peter Dejong)
© AP Photo / Peter Dejong
A Scythian gold helmet from the fourth century B.C. is displayed as part of the exhibit called The Crimea - Gold and Secrets of the Black Sea, at Allard Pierson historical museum in Amsterdam Friday April 4, 2014. The museum has gotten more than the bronze swords, golden helmets and precious gems it bargained for as it is unsure where to return the collection after Russia annexed Crimea. (AP Photo/Peter Dejong)
© AP Photo / Peter Dejong
A Chinese lacquer box from the first century A.D., a burial gift for a Late-Scythian woman, is displayed as part of the exhibit called The Crimea - Gold and Secrets of the Black Sea, at Allard Pierson historical museum in Amsterdam Friday April 4, 2014. The museum has gotten more than the bronze swords, golden helmets and precious gems it bargained as it is unsure where to return the collection after Russia annexed Crimea. (AP Photo/Peter Dejong)
© Sputnik / Dmitry Korobeinikov
The exhibition "The Golden Deer of Eurasia", which the State History Museum in Moscow hosted in 2003, demonstrated samples of Scythian jewelry from its own depository and the State Hermitage Museum Gold Depository, and the latest finds of the Ufa archeological expedition. One of the exhibits, a decorative gold figurine
© AP Photo / Peter Dejong
A grave inventory of a Late-Scythian elite woman from the first century A.D., is displayed as part of the exhibit called The Crimea - Gold and Secrets of the Black Sea, at Allard Pierson historical museum in Amsterdam Friday April 4, 2014. The museum has gotten more than the bronze swords, golden helmets and precious gems it bargained for as it is unsure where to return the collection after Russia annexed Crimea. (AP Photo/Peter Dejong)