Lloyd Blankfein, the chief executive of the American multinational finance company, believes there needs to be further consensus among the British people on the "monumental and irreversible" decision over Brexit.
In his latest intervention via Twitter on Thursday, November 16, he said there was "lots of handwringing" from chief executives over the issue, warning also of a "tough and risky road ahead."
Here in UK, lots of hand-wringing from CEOs over #Brexit. Better sense of the tough and risky road ahead. Reluctant to say, but many wish for a confirming vote on a decision so monumental and irreversible. So much at stake, why not make sure consensus still there?

— Lloyd Blankfein (@lloydblankfein) November 16, 2017
His post has attracted more than 2,000 retweets, while over 3,300 users admitted that they liked it.
Followers were split over his comments, however, with many describing them as "irrelevant and pointless."
Brexiteers, in particular, voiced their anger with one tweeting in response accusing him of pushing his personal financial interests by undermining British democracy while others claimed UK politics was none of his business.
Not the First Time
It is not the first time that Mr. Blankfein has used his social media account to express his thoughts over Brexit. The first intervention came in October as he was leaving Frankfurt, the German city tipped to replace London as the financial hub when the UK finally quits the EU.
Goldman Sachs employs 6,000 staff in the UK with its new headquarters due to be completed just as Britain prepares to leave the European bloc in March 2019. It is not clear how many staff will move into the new building in central London especially as Mr. Blankfein later tweeted an aerial shot of the £350 million (US$461 million) with the words "expecting/hoping to fill it up, but so much outside our control."
Quit Plans
Goldman Sachs has already drawn up contingency plans to move to Germany having taken the top eight floors of a 37-story block under construction in Frankfurt providing sufficient space for around 1,000 employees. It presently employs around 200 people in the German city.
It is also understood to be considering expanding its operations in Paris as well. On Tuesday, November 14, he tweeted from Paris where he said he was "struck by the positive energy" remarking also on the "good food."
Hefty Fine
Goldman Sachs has been told by the US department of justice to pay US$5.06 billion for its role in the 2008 financial crisis. The settlement announced in January, 2016, comes over the sale of mortgage-backed securities from 2005 to 2007.
© AP Photo / Richard Drew
Goldman Sachs trading post on the floor of the New York Stock Exchange (File)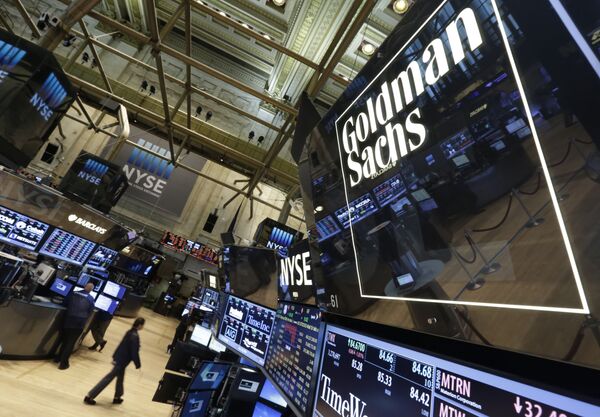 Goldman Sachs trading post on the floor of the New York Stock Exchange (File)
© AP Photo / Richard Drew
Announcing the penalty, associate attorney general Stuart Delery said: "This resolution holds Goldman Sachs accountable for its serious misconduct in falsely assuring investors that securities it sold were backed by sound mortgages, when it knew that they were full of mortgages that were likely to fail."
Financial institutions in Britain are now becoming increasingly worriedthat the UK will fail to strike a trade deal with Europe before it leaves. They fear that they could lose "passporting rights" which allows them to sell financial services across the various borders.