Fonseca was taken into custody at roughly 2 p.m. local time by Fort Bend County police officers on a August warrant issued by the Rosenberg Police Department. She was released later that day after her husband, Mike, posted the $1,500 bail, local station KHOU reported.
​"I'm almost certain it does have to do with [the truck decal]," Fonseca told the station after her release. "People abuse the badge, and, in my opinion, money talks. When you're in politics, people know how to work the system."
And yet, though Fonseca has alleged the arrest was in retaliation for the "F**K TRUMP AND F**K YOU FOR VOTING FOR HIM" sticker, the warrant, obtained by Houston station KTRK, suggests otherwise.
​The warrant that led to her arrest was related to fraud charges that date back to 2014.
"Karen Marie Fonseca… pursuant to one scheme and continuing course of conduct, did, unlawfully and with the intent to harm or defraud another, obtain and or possess and or transfer and or use the identifying information of… without the complainant's consent."
The couple made headline news Wednesday after Sheriff Troy Nehls took to his official Facebook page to threaten legal charges against the white Sierra truck's driver, who clearly wasn't happy about Donald Trump's 2016 presidential victory. The Texas official, in his post, said the station's prosecutor "would accept disorderly conduct charges regarding [the decal]."
© Screenshot/Facebook
Screenshot of Fort Bend County Sheriff Troy Nehls Facebook post on anti-Trump decal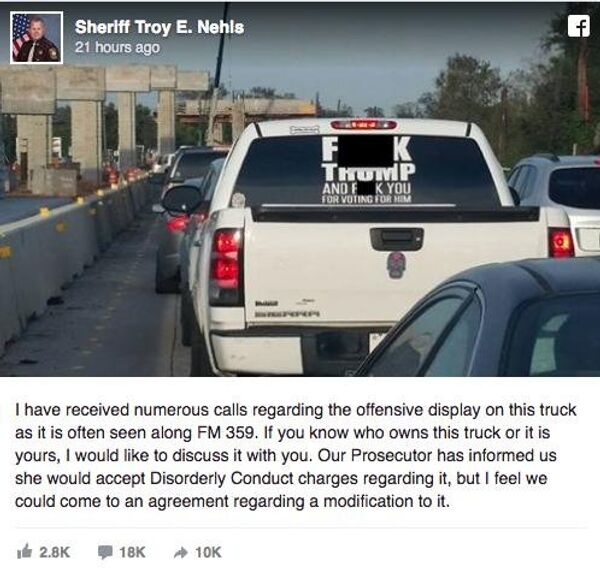 Screenshot of Fort Bend County Sheriff Troy Nehls Facebook post on anti-Trump decal
Hours after the post went viral Nehls scheduled a press conference to address the issue. Stepping back from his initial threats, he instead stated that his concern came out of wanting to prevent a road-rage incident that the sticker could trigger.
"Anybody traveling down the road that is behind that truck may have voted for Trump [and] that is where we might see a breach of the peace," the sheriff explained. "I don't want to see anything happen to anyone. With people's… mindset today, that's the last thing we need."
Speaking to the Houston Chronicle, Fonseca acknowledged that, though people have reacted to the sticker, they mostly just shake their head or take a picture of the truck. The couple has no plans to take the decal down.