US President Donald Trump could increase sanctions even further, Bruce Klingner, researcher at the Heritage Foundation, told the Korea Times November 16.
"If you talk to people in the government who, both currently and in the past, worked on sanctions [against North Korea], they'd tell you for years we've had a list in the drawers of Chinese and other entities that we could sanction today but we have been prevented from doing so by senior policymakers," Klingner said.
"Up until last year, the US sanctioned more on Zimbabwe and Sudan entities than we had on North Korea," the researcher noted.
The expert concurred with the US government's move to designate Pyongyang a state sponsor of terror, agreeing that it would help isolate North Korea diplomatically and financially.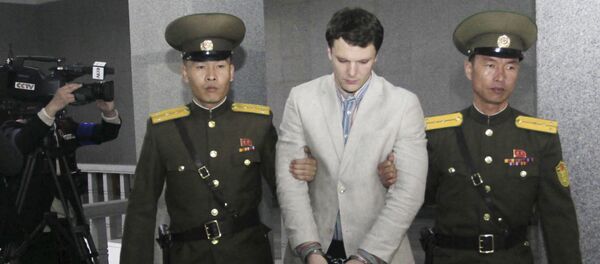 6 October 2017, 00:49 GMT
New sanctions, which the US Treasury plans to announce today, will "close a few additional loopholes off," US Secretary of State Rex Tillerson told reporters Monday, though he qualified that "the practical effects may be limited," and the terror designation was "very symbolic" in nature.
Tillerson noted that more sanctions might be excessively cruel, at least for now. "The truth of the matter is the people of North Korea already live under enormously difficult conditions," Tillerson said. He also noted that Washington still hopes "for diplomacy" with North Korea.