Iran and Turkey staunchly oppose Kurdish independence in the region, as they fear it could stoke aspirations for independence domestically, from their respective homegrown separatist Kurdish militias, namely PJAK forces in Iran, and PKK militants in Turkey.
Eager to restore trade and diplomatic ties with its neighbors and Iraq, the KRG is calling for dialogue, and a cessation of hostilities.
"As a factor for stability, we have always wanted good relations based on mutual respect, understanding, and benefit, as the Kurdistan region stands for building bridges. We want our neighbors and the whole world to understand that we have always stood for peace. We need to nurture our relations in such a way that it would bring about stability and security because the impact of the current situation goes beyond the region," Iraqi Kurdistan's Foreign Minister Falah Mustafa told Sputnik.
Although the autonomous Kurdish region in northern Iraq shares a border with friendly Kurdish-led forces in Syria, the entire enclave remains without port access, and thus, landlocked by hostile countries.
Last month, Iraqi forces managed to retake territory, including the oil-rich city of Kirkuk, which was opportunistically seized by the Kurdish Peshmerga during Daesh's blitz northern Iraq offensive in 2014.  
It seems that the KRG has accepted the loss of Kirkuk and other disputed areas, and is calling for negotiations to avoid further confrontation with Iraq. Neighboring countries, especially Turkey, are also keen to see the situation resolved, as the sanctions against the KRG are economically hurting it as well.
"The KRG leadership is forward looking and wishes to mend the fragmented relations of the past. Today, it is more important than ever before that we sit down with Iraq and our neighbors to discuss our future within the framework of mutual benefit. Hostility and violence is not in the best interest of any side. Our region and neighbors are equally responsible for bringing about a functioning partnership; we have continuously reassured our neighbors that we are reliable allies and open to cooperation," FM Mustafa added, highlighting the KRG's readiness to reach a political settlement.
Meanwhile in Syria, the Kurdish-dominated Syrian Democratic Forces (SDF) are continuing to advance against Daesh terrorists in the eastern province of Deir ez-Zor.

21 November 2017, 11:57 GMT
As a result of the SDF's gains over the past year, they now control approximately 80% of Syria's oil wealth, as well as cities and large swathes of territory outside of predominantly Kurdish areas.
Although Syria's Foreign Minister has said he is open to negotiating Kurdish autonomy in a post-war context, the Syrian government is unlikely to accept the loss of such a large amount of northern and eastern Syria, or the loss of much of the nation's oil reserves.
Indeed, a senior adviser to Iran's Supreme Leader recently warned that the Syrian Army plans to retake parts of eastern Syria from Kurdish forces.
After the capture of Raqqa from Daesh, the SDF said the city won't be handed over to the Syrian government, even though it had a majority Arab pre-war population.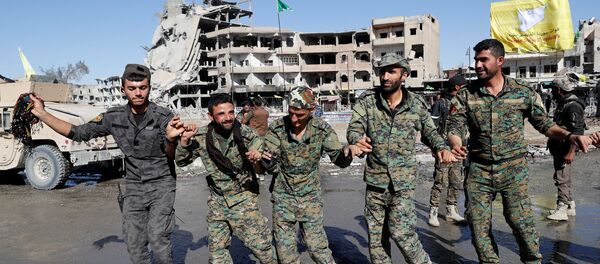 23 October 2017, 11:28 GMT
Although Turkey has provided support to Islamist militants fighting Bashar al-Assad's government, it is likely to side with the Syrian government to counter the Kurdish presence near its southern border, as it considers Kurdish autonomy in Syria a threat to its national security and sovereignty.
With regards to the oil fields under the SDF's control, it is likely to use them as a bargaining chip to secure limited autonomy in Kurdish areas in northern Syria. In any case, Syria's oil reserves aren't particularly useful to the SDF's cause, as it lacks the technical expertise to operate the fields and refineries.
Furthermore, there aren't any feasible oil export opportunities available to the SDF, due to the lack of sea access, or friendly neighbours. In fact, for this very reason, it will be difficult for the SDF to effectively survive and govern northern Syria without cooperation from the Syrian government.
Ultimately, due to its geographical weakness, the Kurdish enclave in Syria is likely to suffer a similar fate to its Iraqi counterpart. Opting for rapprochement with Syria's government will undoubtedly serve Kurdish interests in both Syria, and the wider region.
The views expressed in this article are solely those of the author and do not necessarily reflect the official position of Sputnik.    
Follow Suliman Mulhem on Twitter.