The US supply of armored vehicles and heavy weapons to the Syrian Democratic Forces (SDF) is not slowing down.
"The US sent us 120 armored cars and weapons, including submachine guns, howitzers, mortars, which were brought overland from Northern Iraq, then fetched to the city of Hasek, and from there they were taken to the territory east of Deir ez-Zor, which was liberated from Daesh by our detachments," the SDF spokesman told Sputnik Turkey.
In addition to weapons, the spokesman said that the SDF received a large number of Hummer armored vehicles.
"This time, in addition to weapons, a large number of Hummer armored vehicles were delivered as we are experiencing a significant need for them," the spokesman said.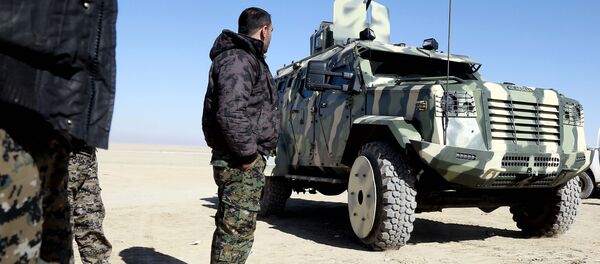 6 November 2017, 07:41 GMT
According to previous reports, since the decision was made to provide military assistance to the SDF Kurdish forces, the US has supplied them with a total of 1,900 trucks full of heavy weapons and armaments.
Earlier Hussam Shueib, a Syrian expert in militant groups commented to Sputnik Arabic saying that Daesh and other similar armed units are being defeated on all  fronts while the Syrian government army is steadily advancing, so the US now needs a new tool for its military operations.
"Washington is now supporting the Syrian Democratic Forces (SDF) as it is almost its last ally in the north of Syria. First, they have close connections with the Kurds. Second, they pose themselves as a secular organization and oppose the Syrian government.  And third, they are able to take control of the north of the country and break up Syria," Shueib explained.
He also pointed out that the SDF have proven that they can take Daesh's  place, for example, in Raqqa. Therefore the US is not creating a positive image of SDF through its mass media, claiming that it is quite a numerous force which has "genuine representatives of the Syrian peoples in its ranks."
The SDF, however, are not being welcomed either by Syrians or by the Syrian Kurds. Nevertheless, the US is pinning its hopes on these forces, expecting them to be able to fight against the Syrian army and its allies, he concluded.