ANKARA (Sputnik) — Turkish President Recep Tayyip Erdogan has not ruled out the possibility of future contacts with Syrian President Bashar Assad to counter the Kurdish People's Protection Units [YPG], which Ankara considers to be associated with the Kurdistan Workers Party, banned in the country, according to the Hurriyet newspaper.
"Whatever happens tomorrow, it all depends on the circumstances. It is inexpedient to say 'never'. The doors of politics are always open until the last moment," Erdogan said answering the question about whether Ankara's contacts with Assad were possible on the issue of combating YPG, as quoted by the newspaper.
According to the Turkish president, so far Ankara has not initiated any contacts with Assad, including through mediators.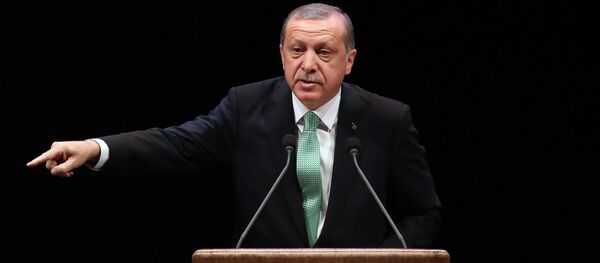 1 December 2016, 13:35 GMT
Erdogan's statement comes in the wake of 
the meeting between Russian, Iranian and Turkish presidents Vladimir Putin, Hassan Rouhani and Erdogan
in Russia's Black Sea resort of Sochi on Wednesday, where they reaffirmed their commitment to continue de-escalation efforts in Syria within the framework of the Astana process, as well as cooperation for the final defeat of terrorists.
The Turkish president has also commented on the decision of the three leaders to hold a Syrian National Dialogue Congress, expected to take place in Russia's Black Sea resort of Sochi in early December.
"We, the three countries, will decide who will be invited to the congress. Commissions created by our foreign ministries will hold all the necessary consultations in advance. We expect that all the groups in Syria will be invited," Erdogan stated, adding that Turkey's position on "terrorist organizations such as YPG and [Kurdish Syrian Democratic Union Party] PYD" remains unchanged.
The congress will serve two goals, namely developing a new Syrian constitution, the position on which has been approved already and holding "fair and transparent elections" supervised by the United Nations, according to the president.
READ MORE: Turkey Not to Cooperate With Assad Nor to Move Him by Force — Erdogan's Aide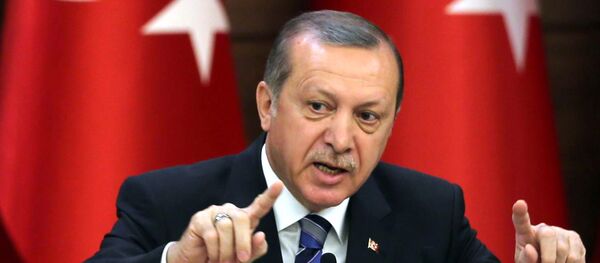 30 November 2016, 12:35 GMT
Meanwhile Erdogan pointed out the possibility that further trilateral meetings between the leaders of Russia, Turkey and Iran could take place in the future in Turkey or Iran.
The Syrian National Dialogue Congress will bring together a number of opposition and pro-governmental forces, as well as representatives of all Syrian ethnic and religious groups. The event, which is meant to push forward the process of political settlement in the country and address issues of the future Syrian constitution, was initially set for mid-November, but was postponed.