Norway, one of Europe's foremost users of US F-35 fighter jets, is concerned that its new fleet, designed to become the backbone of the Nordic country's defense, automatically retrieve data that is automatically sent to the manufacturer in the US.
The costly aircraft that set the Norwegian state coffers back billions of dollars, are equipped with a technology that improves Norway's ability to monitor large land and sea areas. However, the planes are also set up to automatically send information to manufacturers' servers in Fort Worth, Texas after each flight, which worries defense officials. The information sent via the worldwide Autonomic Logistics Information System (ALIS) includes operational data, jets' "self-diagnosis," maintenance data and training data.
"Due to national considerations, there is a need for a filter where the user nations can exclude sensitive data from the data stream that is shared by the system with the manufacturer Lockheed Martin," Defense Ministry senior consultant Lars Gjemble told the ABC Nyheter news portal.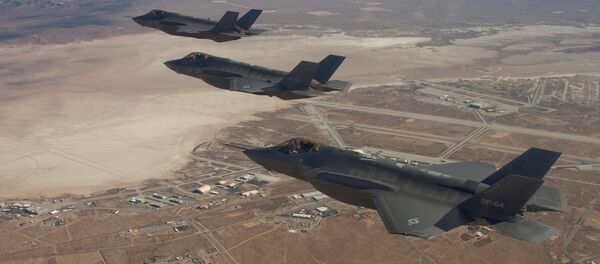 3 November 2017, 10:36 GMT
Gjemble compared the advance from the F-16 currently in use in Norway to the F-35 with the improvement from an old Nokia 3210 to an iPhone X, pointing out that the increased assortment of options, features and data also called for increased protection.
"In a way, it is similar to the challenge of what information your iPhone shares with the manufacturers," Gjemble explained.
According to Gjemble, there is a particular need for protecting the jet's programming via the so-called Mission Data Files (MDF), which he described as a library of possible threats in the areas where the F-35s are set to operate. The MDF contains national data to optimize the aircraft sensors.
Norway previously entered a partnership with Italy to jointly finance the so-called Norway Italy Reprogramming Laboratory (NIRL), in which the two nations will take turns storing nationally sensitive data.
As an contributor to the international Joint Strike Fighter project which resulted in the F-35, Norway decided to acquire 52 new F-35 fighter jets to the tune of NOK 81 billion (close to $10 billion). Lifetime costs associated with this project are estimated at 270 billion ($33 billion).
​Earlier in November, Norway bid a warm welcome to its first batch of three F-35s. However, it was later discovered that the costly jets the Armed Forces themselves described as a "robust defense" will be stored in tents at the Ørland airbase until at least 2020, as the NOK 2 billion worth ($250 million) warplane hangars are not yet in place.