"An extraordinary session of the OPCW's executive council ended in the Hague […] during which the US tried to pass an extremely tough anti-Syrian draft resolution, which resulted in long-term diplomatic battles eventually resulting in the US having to withdraw its draft document because it did not get the necessary number of votes," Mikhail Ulyanov, director of the Department for Nonproliferation and Arms Control at the Russian Foreign Ministry, told Sputnik on Friday.
The statement comes after the OPCW-UN Joint Investigative Mechanism on the use of chemical weapons in Syria presented a report to the UN Security Council, claiming that the Syrian Air Force had carried out the chemical attack against Khan Sheikhoun that killed around 100 people.
Moreover, the report alleged that the sarin nerve gas used in the attack was drawn from stockpiles that the Syrian government had claimed had been destroyed as part of a 2013 deal with the US and Russia — a process the OPCW itself signed off on as having been completed that November.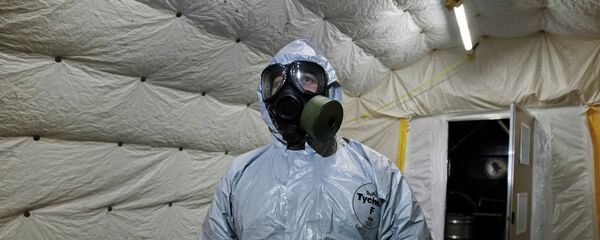 6 November 2017, 22:09 GMT
Separately, the Permanent Mission of Russia to the UN stated the report looked more like an amateur document and was based mostly on assumptions, and selective use of facts. 
The Syrian government, in its turn, has strongly rejected the report's results, stating that the experts had not conducted any investigations directly at the scene of the incident in Khan Sheikhoun.