The film chronicles an affair between a young Nicholas II and half-Polish ballerina Matilda Kschessinskaya — its release in Russia followed months of intense debate. In particular, Russian Orthodox activists were offended at the portrayal of Nicholas II, given that he was canonized as a saint by the church in 2000 — they deny the affair ever took place, and claim the film's purpose is to "again plunge Russia into bloody chaos."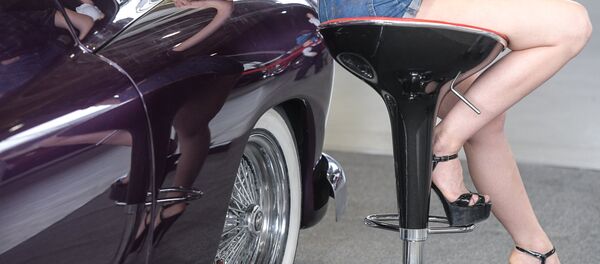 Nonetheless, Kschessinskaya's own diary suggests she had been very much involved with Nicholas, for three years beginning in 1890, when he was a grand duke at 22, and she was 17.
The pair met after her graduation performance, and the relationship apparently continued until Nicholas married Princess Alix of Hesse-Darmstadt (future Empress Alexandra Fyodorovna) in 1894, shortly after the death of his father Alexander.
In any event, whether due to the controversy, or excitement at the prospect of a raunchy foreign period drama, public interest in Matilda was so high that event organisers were obliged to hastily schedule a second showing of the movie on November 26, the final day of the festival.
Alexey Uchitel spoke to to Sputnik at the BFI prior to the second showing.
Q: How and when did you decide to make the film?
A: I made this decision four years ago. Initially, it was supposed to be based on biography of [Matilda] Kschessinskaya only, but later we decided — despite the name "Matilda" — to make our protagonist the future Emperor of Russia, Nicholas II. The movie is primarily about how the future emperor chose his own fate.
Q: What was important for you in this story?
A: The important part for me was that the fate of Russia was decided at that moment. Due to a set of circumstances — mystical, detective — Nicholas II was choosing not merely his own fate, but also the fate of the state. A number of occasions — some of them are depicted in my movie — were telling Nicholas that he should take thoughtful consideration whether he should become the emperor. The occasions: such as derailing of the czar's train, the Khodynka tragedy, when a lot of people died during Nicholas's coronation. There was a lot of symbolism.
Q:  Did you expect such reaction to the movie? Did you wish it?
A: No, not only that I didn't expect it, I couldn't even imagine it in my worst dreams. Everything about the movie making was absolutely transparent: we talked a lot about our idea, we talked with journalists, we explained that the story involved the love between the ballerina and the future emperor. The resistance occurred unexpectedly, when all the filming was done and we started the editing. I couldn't imagine it.
Q: The scandal around the movie obscures the movie itself for the viewer. What did you want to do with the movie, what style you imagined, what other movies inspired you?
A: I think it's harmful to watch other movies before filming: it can inadvertently influence your own vision. I believe [Matilda] is an original story, despite that there are many movies about the royal family. I wanted to tell the story itself. Speaking of style, it is a mix of melodrama and drama with mystic additions.
Q: What was more important — the facts or melodramatic part?
A: Every movie or a book, if it's not a documentary, is the author's view anyway. I tried to incorporate the main historical facts as a kernel, but the relations of the people, the way they behaved when they are alone — that's something you cannot read in any book. Of course, it's an author's view. My aim was to depict Nicholas II not as a saint, an icon, but as a living man; the man who, despite his position, could doubt — this, I think, is a very good quality — a man who could fall in love, who had emotional empathy. I wanted the viewers to see him not merely as a decision making figure, but a live human being.
Q: Where do you think the scandal emerged from? Are these political games, or a religious provocation, or real mood of the masses?
A: No, that's definitely not the mood of the masses in any way. First, there are some personalities, such as Natalia Poklonskaya, who are in a human way simply in love with the figure of Nicholas II; meanwhile, she is a lawmaker and a former prosecutor, and, unfortunately, she used her powers to do a number of bad things against the movie. Second, this sparked a wave of petty organizations who claim to preach Orthodox Christianity, but really preach the aggressive version of Christianity. They called to burn the theatres, burned the cars. They managed to do that for a while, but, thankfully, they were apprehended eventually and all of this ended. And there are also some leaders of the Church who believe that since Nicholas II is a saint, no details of his private life should be told. This is wrong in both historical and judiciary way, because Nicholas II — just like the whole royal family — is a saint because of his martyrdom, not because of his life. That's why his life is absolutely open to discussion.
Q: What's your attitude to the fact that there are specific relations between part of the Orthodox Church and the Russian government. Could it make obstacles for the movie?
A: Well, if the movie was banned in Russia and other countries, then that would be a bad situation. But the movie is in theatres now, and I believe it is a victory of the sensible powers. We should take it into consideration, though.
Q: What was the reaction in other countries?
A: The movie is now in theatres in many countries of Europe, it will be in Asia, in Korea, in Japan, in China, in the US. It is amazing for me, but the interest is huge. Nicholas II's biography and his death is a well-known story, but this part of his biography [documenting his love affair with Matilda] is barely known, that's why the interest is high.
Q: Does the scandal in Russia help promote the movie in other countries?
A: I'm skeptical about it. I think the scandal is known only to the inner circle of people interested in cinematography. I've been to other cities of Russia, and most people have no idea about it. Maybe the scandal helped spread the word, somewhat, but I think people would mostly go either because of interest in this historical period, or interest in movies in general, or because of sense of contradiction: if the movie is about to get banned, we should go watch it.
Q: What is the most important matter for you now?
A: There is a lot of matters, you know, but the most important, I think, is that all of my closest relatives and friends and all the people in the world stay healthy and happy; so that there is no war in the world. I came [to London] yesterday, and, as I went from airport, I've been told I will not be let in the hotel because of a terror attack alert. My son was in the hotel, and they didn't let him out. That's scary.