Sputnik: What is your take on the White House statement about military support adjustments in Syria?
The Raqqa operation was finished around one month ago and also the fight in Deir ez-Zor is almost over. So this is one of the reasons why Washington and the White House have made this statement saying that they are going to adjust military support for the SDF [Syrian Democratic Forces], because most of the operations are almost over against ISIS [Daesh].
Sputnik: The US stopped short from halting weapons supplies to the Kurds although earlier reports suggested that they would do so. Why do you think Washington has altered its decision now?
I think because […] the Trump administration also… wants to make better relations with Turkey. So, this is also a way to try to cool down Turkey because Turkey is also thinking about attacking the Kurds in [the Syrian city of] Afrin. But, I mean, it does not necessary mean that they are going to stop supporting the Kurds because there are still a lot of US troops on the ground and they are still training forces. So it doesn't mean there is a complete stop.
READ MORE: Hundreds of Trucks Loaded With Weaponry' Reach SDF Despite Trump's Promise
Sputnik: So you think that Washington will never halt weapons supplies to the Syrian Kurds then?  
I think it is possible that they stop weapons supplies but the more important thing is whether US troops will leave northern Syria or they will stay and for the moment they are staying. And US Defense Secretary Mattis has said that at least until the Geneva process they are going to support it because they know that the situation would worsen if they just redraw without any plan. [And] because also America says that they want to have stabilization and they mean they start reconstruction like restoring services in cities liberated from ISIS [Daesh].  
Sputnik: Who else could the Kurdish militia turn to in terms of support if support from Washington is stopped?
Well the Kurds also have very good relations with the Russian government. For instance, few weeks ago there was a delegation from the Russian army in Qamishli and they handed over some Chechen families that before were in Daesh. So, they do have relations also with the Russians especially around Afrin and Russia has a huge influence on the Syrian government. So it's possible also that Russia could play a balancing role but this also depends on relations between Russia, Turkey and Iran.
READ MORE: Turkish Official: US to Deceive World Unless They Stop Arms Supplies to YPG
Sputnik: How is this new development now going to characterize the US policy with regard to Syria?
The fight [against] ISIS [Daesh] is not over, so I mean the focus will now change to finding a solution on the Syrian conflict. The US policy will change more from military more to diplomacy.
Sputnik: Wladimir, what's your belief when it comes to Washington's ultimate goal in Syria now? Is the US really interested in achieving peace in the war-torn country or is there another agenda?
The main role of the US in Syria was mostly fighting ISIS [Daesh], they are not so much interested in overthrowing the Syrian government, supporting the Syrian rebels or supporting the Syrian government. So after ISIS is finished they will be focused on finding a diplomatic solution, what Russia is also working for.
© REUTERS / Rodi Said/File Photo
A fighter of the Syrian Democratic Forces (SDF) carries a weapon as he stands near a military vehicle in Raqqa, Syria, October 16, 2017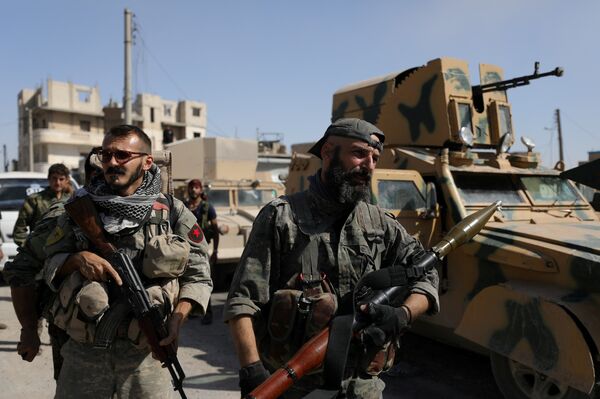 A fighter of the Syrian Democratic Forces (SDF) carries a weapon as he stands near a military vehicle in Raqqa, Syria, October 16, 2017
Sputnik: And what is the situation now with regard to Ankara and what's their likely reaction to this development? What effect could it have on relations between the two countries now?
So, Ankara welcomed the statement of the White House but they are still sort of suspicious because they are afraid that Washington could maybe stay longer in northern Syria to undermine the Iranian influence in the country. Until now they welcomed the statement but they want the US to do more: they want the US to completely pull out [of Syria] and I don't think it is going to happen any time soon.
READ MORE: US Troops to Remain in Syria After Daesh Defeat — Reports
Sputnik: The next round of talks is kicking off today in Geneva with regards to the future of Syria. What do you expect from these talks today and in forthcoming days? Is there really a possibility of compromise with the regard of the opposition over the future of President Assad in Syria?
I think it's going to be very difficult because the Syrian government is now in a very strong position after they captured Aleppo from the Syrian rebels. The Syrian government is not willing to make concessions to the Syrian opposition and the Syrian opposition is very weak and they are asking for a transitional government. So, I think it is going to be very difficult for the Syrian government and the Syrian opposition to reach an agreement because why would the Syrian government even want to talk with the Syrian opposition when they are almost defeated in most parts of the country except some pockets and some areas in northern Aleppo.
Sputnik: Wladimir, you are a political analyst and Kurdish affairs expert what would you like to see to be done now within this particular region moving forward for the ultimate harmony and peace moving forward?
The best solution would be a deal between all the different actors until they find a sort of compromise on having elections and having stability being returned to the country. But in the end it's up to the local actors to decide, not for me as a foreign expert.