The Chinese Foreign Ministry expressed "grave concern and opposition" on Wednesday to North Korea's continued ballistic missile development program. Beijing hopes "all parties would act cautiously to preserve peace and stability," spokesman Gen Shuang said.
US President Donald Trump spoke with Chinese President Xi Jinping Wednesday about how to cool tensions on the Korean peninsula following the test. Trump "emphasized the need for China to use all available levers to convince North Korea to end its provocations and return to the path of denuclearization."
Just spoke to President XI JINPING of China concerning the provocative actions of North Korea. Additional major sanctions will be imposed on North Korea today. This situation will be handled!

— Donald J. Trump (@realDonaldTrump) November 29, 2017
​The missile test "went higher, frankly, than any previous shot they've taken, a research and development effort on their part to continue building ballistic missiles that can threaten everywhere in the world," Pentagon chief James Mattis said Tuesday.
The missile traveled about 1,000 kilometers (620 miles) before splashing into the Sea of Japan but could have traveled 6,500 miles, were it on a standard trajectory.
"After watching the successful launch of the new type ICBM Hwasong-15, Kim Jong-un declared with pride that now we have finally realized the great historic cause of completing the state nuclear force, the cause of building a rocket power," a statement on North Korean state TV said after the launch.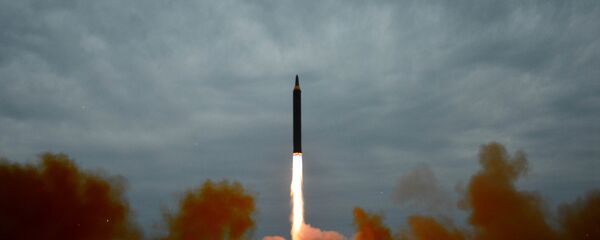 28 November 2017, 18:28 GMT
Moscow saw the latest missile test as yet another provocation from Pyongyang.
"We urge North Korea to stop the nuclear and missile tests, and the United States and the Republic of Korea — to refrain from carrying out unplanned air forces drills, unprecedented in scale and scheduled for December this year, since it will only exacerbate the situation, which is already explosive," the Russian Foreign Ministry said.
"Diplomacy remains the preferred way" forward with respect to North Korea, Mattis said in late October.
South Korean Prime Minister Lee Nak-yon said Mattis' hope may no longer be achievable.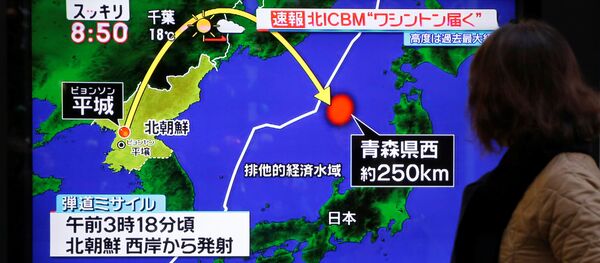 29 November 2017, 08:15 GMT
"The prospect of dialogue with the North is getting slimmer," Lee said Wednesday, adding that "it is unrealistic to do so while the country is accelerating its missile development."
"The government will continue to pressure the country in close coordination with the international community to the maximum level," the leader said, concluding that "further unilateral sanctions against Pyongyang" may be necessary.