Daesh militants may have been ousted from Syria's Raqqa and Iraq's Mosul, but the terrorist group has been splintered rather than eliminated and continues to show that it has the resources to spread terror across the globe.
The group uses popular platforms like Twitter and Instagram to communicate threats and instructions. Sometimes, these threats seem to presage actual bloodshed: Daesh propaganda posters were circulating around Halloween this year, just hours before a deadly attack in New York in which eight people died and 11 were injured when an Uzbek national residing in the US ploughed a rented truck into cyclists and pedestrians on the holiday afternoon.
Sayfullo Saipov, 29, faces 22 charges and the death penalty for his Big Apple attack.
Now, new, disturbing posters shared through Daesh's social media channels depict Santa Claus standing near a box of dynamite and looking out over a crowd of shoppers in Times Square. The implication is clear: holiday shoppers are a target. "We meet at Christmas in New York… soon," the now-viral image's caption informs.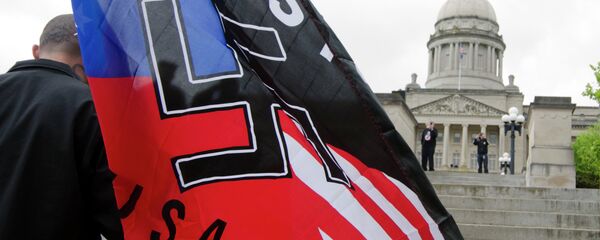 29 November 2017, 21:10 GMT
Through encrypted communication channels, terrorists have already issued threats to attack Christmas markets in Europe by sharing similar posters showing Santa kneeling in front of a terrorist on Regent Street in London, a jihadi holding a bloody knife looking out over a Christmas market with the Eiffel Tower in the background and a terrorist overlooking St. Peter's Square in the Vatican with rocket launcher.
US intelligence services are reportedly on high alert after the threat. Keeping in mind the growing number of terror attacks globally, and particularly the attack on a Berlin Christmas market last year, one can't deem the threats a bluff.
In the December 2016 Christmas market attack, a truck rammed into a crowd in the center of Berlin leaving 12 people dead and almost 50 injured. The attacker, identified as 24-year-old Tunisian national Anis Amri, was shot dead several days later by Italian police in Milan.
Last week, six people were arrested in France in connection with a suspected plot to attack a Christmas market.
​Following the October 31 attack in the US, US President Donald Trump ordered the Department of Homeland Security to "step up" its already "extreme vetting program."
"Being politically correct is fine, but not for this!" Trump wrote in a tweet.