Pressure is mounting on the UK Prime Minister Theresa May to withdraw an invitation to the US President for a state visit to Britain next year following a diplomatic spat between the transatlantic allies over his Twitter activity and remark meant for the British PM. 
In an interview, Adam Garrie, managing editor of The Duran, told Sputnik he believes Mr. Trump was not thinking about the UK when he made his tweets.
"If anything he was trying to distract from the total failure of his bullying campaign against the DPRK and distract the US public with a combination of tweets about domestic celebrity scandals and anti-Muslim videos which have always resonated among some of his key supporters," he told Sputnik.
US President Donald Trump retweets videos from Jayda Frensen
"As for the UK reaction, there's little a failing Prime Minister can say other than the visit will go ahead as scheduled. However, it was delayed before and it may well be delayed again based on a number of factors. Apart for checking up on his golf course in Scotland, there is really little for Trump to do in the UK. He knows it, the UK government must know it too."
Domestic Opposition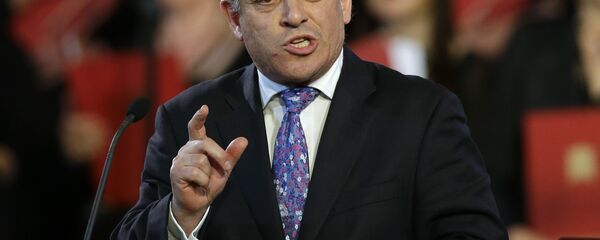 10 November 2017, 20:44 GMT
Critics — including a senior UK cabinet minister — are becoming openly opposed to the idea that the American president be given the high honor offered by the British premier during
her first visit to Washington to meet Mr. Trump shortly after his election victory.
Although no official date has yet been set, both Downing Street and the White House insist the state visit will take place but is still at the planning stage.
With the British premier presently on a tour of the Middle East, a Downing Street spokesman made it clear Trump's invitation still stood, although Foreign Secretary Boris Johnson said on November 29: "The UK has a proud history as an open, tolerant society & hate speech has no place here."
Leading the calls to halt the visit, Sadiq Khan, the Mayor of London, accused the president of promoting "a vile, extremist group" and he insisted an official visit to Britain "would not be welcomed."
In a surprising move, one of Mrs. May's own cabinet members took to social media to air his views over the controversy after Mr.Trump shared videos posted by Jayda Fransen, the deputy leader of Britain First, a group founded by former members of the far-right British National Party, to his 40 million Twitter followers.
Sajid Javid, the local government minister, who is a Muslim, voiced his disappointment, insisting the matter was far from over.
Delete His Account
The diplomatic feud between Britain and the United States was raised in the House of Commons on Thursday, November 30, with two Conservative MPs offering a solution to the problem — either the president should delete his account, or Twitter should suspend it.
During an urgent question to Home Secretary Amber Rudd, Tory MP Peter Bone said Britain should use its influence with the US to convince Mr.Trump to close his account.
"One of the advantages of having such a special relationship with the United States is when a friend tells you you've done something dreadfully wrong, you tend to listen. Wouldn't the world be a better place if the prime minister could persuade the President of the United States to delete his Twitter account?" he asked.
Ms. Rudd appeared to agree, replying: "My honorable friend makes an important point, it is true. We all listen more carefully, perhaps, to criticism from our friends than from people who we don't have a relationship with…it's interesting to note my honorable friend's advice regarding Twitter accounts, I'm sure many of us might share his view."
Responding to calls to cancel the visit, the minister said: "I can only repeat what I have said before, that the invitation has been extended and accepted and we have yet to make the arrangements. She added that "no dates have not yet been agreed".
Her comments were widely criticized on social media with many accusing the British government of simply becoming a lap-dog for America. A nationwide petition has also been started to call off the state visit.