Former US President Barack Obama met with Chinese President Xi Jinping merely weeks after Obama's successor as the American leader, Donald Trump, visited China. 
Obama and Xi were photographed smiling and drinking tea at the Diaoyutai State Guesthouse in Beijing and were quickly dubbed as "veteran cadres," the term generally used to refer to retired Chinese Communist Party officials.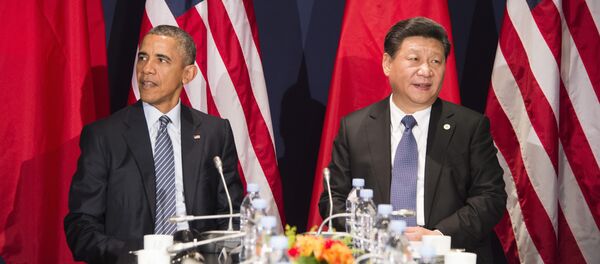 5 September 2016, 18:44 GMT
Chinese state news outlet
Xinhua
reported that "Xi made a positive appraisal of Obama's efforts in promoting China-US relations during his presidency."
"China and the United States have an important responsibility to safeguard world peace and stability."
"A long-term, stable and healthy development of Sino-U.S. ties accords with the interests of both nations and the world," Xi said.
Similarly, the former US President, who famously made a pivot to Asia in order to rally America's allies against China, also said that "developing constructive U.S.-China relations is in line with the interests of the two peoples."
READ MORE: Obama, Xi Address South China Sea Row, North Korea Ahead of G20 Summit
Curiously, Obama suggested that despite the end of his career as the US President, "he will continue to play a positive role in promoting mutual understanding, exchanges and cooperation between the two countries."
Although Obama shifted his tone from being critical of China's human rights record to a more conciliatory stance during the latest visit, "appreciating China's development achievements," the exact purpose of his visit remains unknown.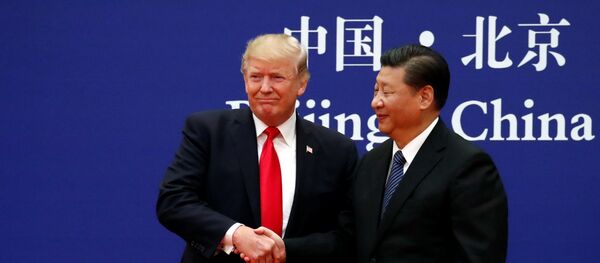 9 November 2017, 07:08 GMT
Obama's trip to China is even more intriguing, given that his successor, US President Donald Trump, visited the country less than month ago.
Despite his critique of China's economic policy during the 2016 presidential race, Trump has made public his personal relationship with his Chinese counterpart, describing it first as a "very good relationship" and then "the best relationship of any president-president,"
However, the US has recently renewed its push against its main economic rival, escalating tensions with China by proposing that the WTO take down its classification as a "market economy" due to heavy state subsidies in a move than may lead to higher tariffs on Chinese goods.