"The US administration must completely cut ties with terrorist organizations such as PYD [Democratic Union Party]/YPG … Since the fight against Daesh is over, the organization should not need these [weapons]. However, we know that the US has lost track of distributed weapons in Iraq in a similar way. So, these words need to be backed up with concrete steps," Turkish presidential spokesman Ibrahim Kalin said as quoted by the Anadolu news agency.
He also criticized Pentagon's statements that the Kurds would be allowed to possess weapons which didn't pose threat to Turkey.
"Others do not decide, who or what threatens our national security, the Turkish Republic does," Kalin noted.
According to Erdogan's spokesman, the US weapons possessed by the Syrian Kurds would destabilize the situation in the region.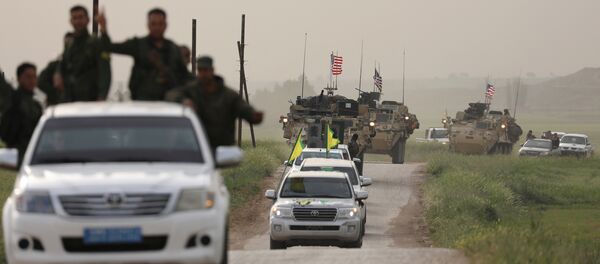 29 November 2017, 13:33 GMT
The statement comes after Turkish Foreign Minister Mevlut Cavusoglu announced that US President Donald Trump had reassured Recep Tayyip Erdogan that he had ordered to cease supplies of US weapons to the Syrian Kurds.
The White House has confirmed the announcement, saying it was "consistent with our previous policy."
READ MORE: Trump Tells Erdogan He Ordered to Stop Arms Supplies to Syrian Kurds — Ankara
In late October, Nuri Mahmud, an official representative of the Kurdish People's Protection Units (YPG) refused to reveal the scale of the arms provided by the US, only noting that "it is relatively humble and not enough in comparison with the weaponry it supplied to the Iraqi Army for the liberation of Mosul."
Ankara considers the YPG, which has been fighting against Daesh mostly as part of the Syrian Democratic Forces, to be affiliated with the Kurdistan Worker's Party (PKK) that is listed as a terrorist group in Turkey.