SAN FRANCISCO (Sputnik) — Former US Ambassador to Russia Michael McFaul said Friday he had asked Russian Ambassador Anatoly Antonov for assistance in getting off the sanctions list so that he could travel to Russia.
"I miss Russia incredibly," McFaul told reporters after he met with Antonov at Stanford University. "I love Russia. I lived several years of my life in Russia. I have hundreds of Russian friends, maybe thousands of Russian friends. And as you know, I am on a sanctions list right now, so asked Ambassador Antonov to help me with that… I look forward to traveling to Russia some day soon."
McFaul also said that he would advise his friends in the US Congress to meet with Russian Ambassador Anatoly Antonov.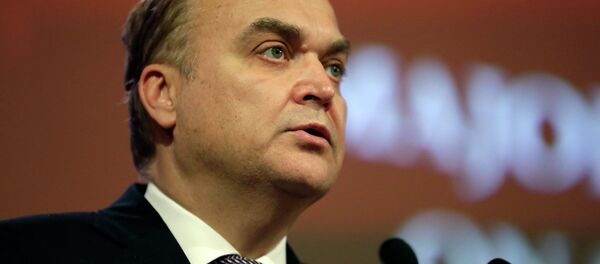 30 November 2017, 04:32 GMT
When asked to comment on the rejection of US lawmakers to meet with Antonov, McFaul stated, "I disagree with this decision."
"I will encourage [them to meet], I have many friends in the US congress, including the top leadership on the Democratic side and I will. I just learned that today, I did not know that. I think it is important for people to meet," he said. He has also said that he would advise US Congress members to revive interparliamentary contacts with Russia.
Earlier, Russian Ambassador Antonov said that the US congressmen rejected his requests for meetings. "All my requests for meetings in the Congress have been rejected," — he said on the sidelines of the Eighth Annual Conference of the Russian American Science Association in Chicago.
In October, Chairman of Russia's State Duma Committee on Financial Markets Anatoly Aksakov told Sputnik that US lawmakers refused to meet with him during his visit to the United States.