Taking the floor at the internet conference in Ujena, CEO of Apple Inc, Tim Cook, said he is worried about not artificial intelligence as such, but people who think like machines, saying technologies will empower us greatly, if in harmony with humanity, as reported by world's media.
"Much has been said about the potential negative aspects of artificial intelligence [AI]. I'm not worried about machines that think as people, I worry about people who think like machines. We need to work together to introduce technology to humanity," he said, bringing his words fully in line with the conference's inspiring motto, which is "digital economic development for openness and sharing benefits – building community of common destiny in cyber space."
© REUTERS / Aly Song
Apple CEO Tim Cook attends the opening ceremony of the fourth World Internet Conference in Wuzhen, Zhejiang province, China, December 3, 2017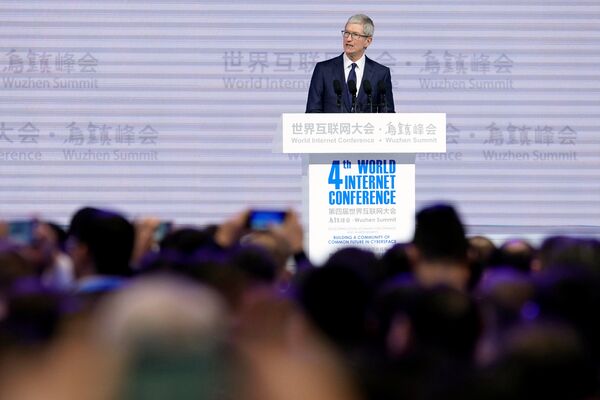 Apple CEO Tim Cook attends the opening ceremony of the fourth World Internet Conference in Wuzhen, Zhejiang province, China, December 3, 2017
Tim Cook noted that for the best advantage, people should be in a harmonic relationship with cutting-edge advances:
"Technologies can change the world for the better, if they are embedded in humanity. We believe that artificial intelligence will be able to embroider a person's ability and help to make a breakthrough that transforms our lives in education, in access to health services and in countless other areas."
Cook's approach appeared to be in tune with the Russian President Vladimir Putin's earlier statements, when he revealed that artificial intelligence is what the future holds for Russia and the whole world.
Meanwhile, some of the world's most renowned scientists, namely Stephen Hawking and Elon Musk, have warned on more than one occasion about the virtual dangers of AI.
Earlier, speaking at a technology conference in Lisbon, Portugal, Hawking told the attendees that mankind had to find a way to control computers, CNBC reported.
"Computers can, in theory, emulate human intelligence, and exceed it," he said. "Success in creating effective AI, could be the biggest event in the history of our civilization. Or the worst. We just don't know. So we cannot know if we will be infinitely helped by AI, or ignored by it and side-lined, or conceivably destroyed by it."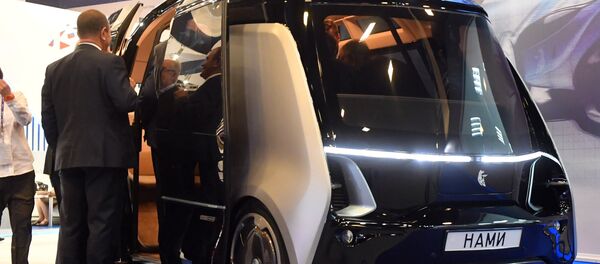 29 November 2017, 15:31 GMT
Despite admitting AI's enormous potential, in tackling poverty and deadly diseases among others, the physicist said AI comes with huge risks. 
In a recent interview with Wired, a University of Cambridge professor said artificial intelligence could one day reach a level where it becomes superior to humans, thus bringing about a "new form of life."
"I fear that AI may replace humans altogether," he told the magazine. "If people design computer viruses, someone will design AI that improves and replicates itself. This will be a new form of life that outperforms humans."
Elon Musk, the famed Tesla chief executive, has also increasingly warned about the perils of artificial intelligence. Appearing to be a real doomsayer, he noted that while racing to have something really revolutionary at its disposal, humanity could subconsciously defeat itself.
"Sometimes what will happen is a scientist will get so engrossed in their work that they don't really realize the ramifications of what they're doing."
Musk's alarming views on the dangers of AI first went viral after he made a startling speech at MIT in 2014, speculating that AI was probably humanity's "biggest existential threat." He added that he was increasingly inclined to think that there should be some national or international regulatory body, thus dismissing Silicon Valley in its function, "to make sure that we don't do something very foolish." He continued:
"With artificial intelligence, we are summoning the demon."
Musk's warnings were closely followed by his recent proposition to travel to Mars, along with a hyped project regarding rockets that can transport passengers here on Earth.