The sixth time that the two Nobel Peace Prize laureates have met, the meeting represents the first visit since Obama left office in January after two terms as US president.
The 44th president is currently on a five-day junket which will include visits to China and France.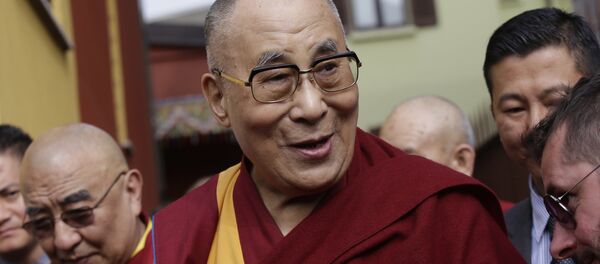 29 September 2017, 16:48 GMT
In a statement by the Dalai Lama's office regarding the meeting, the spiritual leader of Tibet stated that his talk with the former US commander in chief was "very good," according to CNN.
"I think we are really two old trusted friends," the Tibetan leader siad, according to the Central Tibetan Administration, the Indian-based government in exile for Tibet, which was seized by China in 1959.
Dalai Lama office representative Kasur Tempa Tsering noted that the 45-minute meeting between the two men included addressing ways of "promoting peace in today's world torn by strife and violence."
"To Obama, His Holiness said, 'You are not only a former US president but you are a Nobel laureate, you are young and you can do a lot. We should fulfill our aspiration for world peace. Maybe my generation will not see the results, but your generation will definitely see the results,'" the Dalai Lama said, cited by CNN.
The Dalai Lama, now 82, retired as leader of the exiled Tibetan government in 2011 but is still the head of Tibetan Buddhists.
While president of the US, Obama's meetings with the Dalai Lama caused China to issue strongly-worded rebukes, declaring the Tibet spiritual leader to be a fraud.
Beijing does not acknowledge an independent Tibet and considers the Dalai Lama a non-entity.
The two world leaders first met in 2005.