Trump, and those who promote recognizing Jerusalem, as Trump himself did on the campaign trail, "have no appreciation for the magnitude of what this might do," an activist told Sputnik News Monday.
​Speaking on why this is important, activist Miko Peled told Sputnik Radio's Loud & Clear, "Jerusalem has been an Arab and Muslim city for 1500 years. The last 70 years it's been under a brutal occupation, both the western side and the eastern side, by Israel. It's really a conquest, not an occupation."
In 1949, "Israel declared Jerusalem is the capital of the state of Israel, which no other country recognizes. The international community has not recognized the Zionist conquest of Israel. And there's good reason for that: It's been an Arab and Muslim city for 1500 years," said Peled, an outspoken activist and author in Washington.
In June, Trump signed a waiver to keep the US Embassy to Israel in Tel Aviv instead of moving it to Jerusalem. Every US President since Bill Clinton has signed the waiver every six months to delay moving the mission to Jerusalem. In 2016, Trump campaigned on moving the mission to Jerusalem and vowed to recognize Jerusalem as the undivided capital of Israel.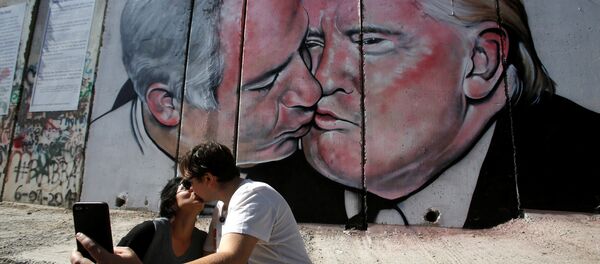 6 November 2017, 23:14 GMT
Trump held off in June in order to "maximize the chances of successfully negotiating a deal between Israel and the Palestinians, fulfilling his solemn obligation to defend America's national security interests," the White House said at the time.
Regarding the recognition of Jerusalem, a White House spokesman told Politico on Friday that "the president has always said it is a matter of when, not if. The president is still considering options and we have nothing to announce."
On Monday, however, White House Deputy Press Secretary Hogan Gidley told reporters "No action will be taken on the waiver today, and we will share a decision on the waiver in the coming days."
Over the weekend, Trump's son-in-law and senior adviser Jared Kusher said Trump was close to a decision on whether to recognize Jerusalem as the capital of Israel.
Arab League Secretary General Ahmed Abould Gheit stated Friday that "taking such action" to recognize Jerusalem "is not justified… it will not serve peace or stability, but will fuel extremism and resort to violence."