MOSCOW (Sputnik) — The Syrian Army and its allies are poised to regain the handful of communities which remain under the control of Daesh (ISIS) terrorists, bringing peace to the conflict-ravaged country — something that the Pentagon claims as its own success.
"Most of the territory liberated in Iraq and Syria has been liberated through the efforts of the Global Coalition and its partners," Eric Pahon told Sputnik. 
Pahon said the US-led coalition would continue to operate in Syria to completely defeat the terror group, stabilize liberated territory and allow for the return of displaced Syrians.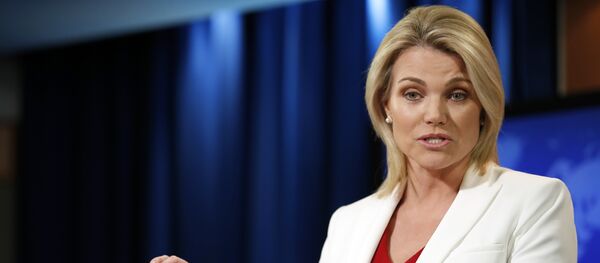 29 November 2017, 22:26 GMT
On Monday, Russian military envoy Maj. Gen.
Yevgeny Poplavsky
said that operations against Daesh were nearing an end, while the Russian Center for Syria's Reconciliation said the terrorist group would be eliminated from areas east of the Euphrates "in the coming days."
On October, 24 Russian Defense Minister Sergei Shoigu said at a meeting of defense ministers of ASEAN member countries and dialogue partners that "now Daesh controlled less than 5% of the Syrian territory. However, before the start of the operation of the Russian Air and Space Forces, more than 70% of the territory of Syria was under Daesh control".
© Sputnik
October 13, 2017: Russian Aerospace Forces in Syria Operation Results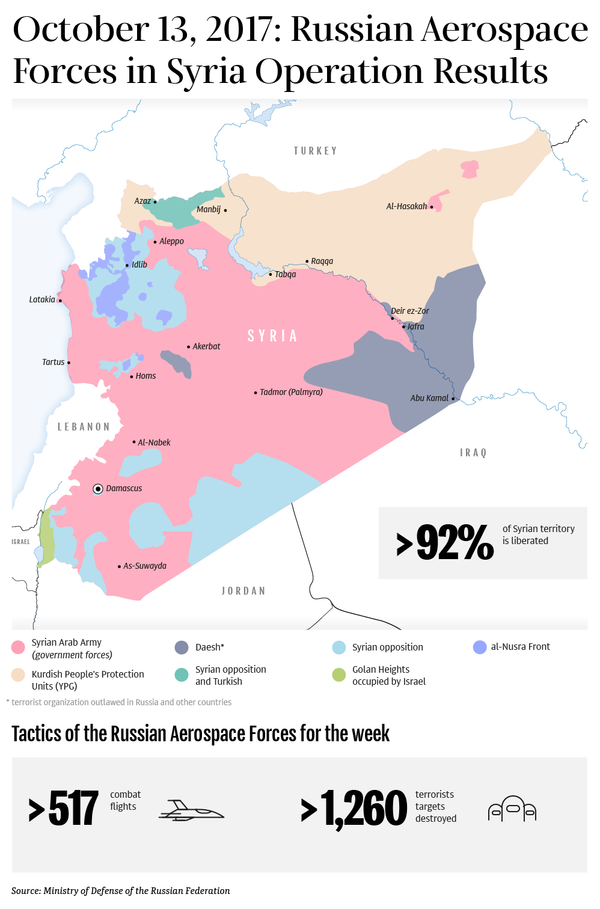 October 13, 2017: Russian Aerospace Forces in Syria Operation Results
In late September 2017, the Syrian Foreign Minister said that the fight against the terrorist organization Daesh (ISIS/ISIL) is over and Damascus was ready to discuss the issue of the Syrian Kurds' self-governance. Aditionally, the Syrian city of Raqqa was liberated by the US-backed Syrian Democratic Forces. However, Damascus still considers Raqqa occupied until it is returned to the control of the Syrian government army.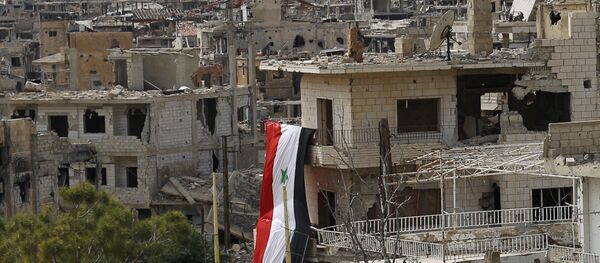 2 December 2017, 07:33 GMT
The Russian Aerospace Forces have played the key and indispensable role in supporting the Syrian government in their fight against terrorists since 2015 at the request of President Bashar Assad. Moscow has also been assisting Damascus by providing humanitarian aid. Moscow has also helped facilitate discussing the reconciliation between the government and the opposition, in Geneva and Astana. During the September round of the Astana talks, Russia, Iran and Turkey, the three states that serve as guarantors of the Syrian ceasefire, agreed on four de-escalation zones in Syria.
READ MORE: As Syrian Army Cements Victory, Foreign Investors Seek Role in Post-War Economy
The Syrian civil war has been raging since 2011, while troops were fighting against numerous opposition factions as well as terrorist groups. The US-led coalition of more than 70 members is conducting military operations against Daesh in Syria and Iraq. The coalition's strikes in Iraq are conducted in cooperation with Iraqi officials, but those in Syria are not authorized by the government of President Bashar Assad or the United Nations Security Council.