New Delhi (Sputnik) — The BrahMos supersonic cruise missile, an Indo-Russian joint venture product, is expected to achieve hypersonic speed in next seven to 10 years.
"We are working on increasing the speed of the missile in a phased manner. The current BrahMos missiles have a speed of Mach 2.8. In two years time, we would have a speed of Mach 3.5. In the next three to four years time, we would have a speed of Mach 5. Then we have to go hypersonic, which would take seven to 10 years," Sudhir Kumar Mishra, CEO & MD of BrahMos Aerospace Ltd said on Tuesday.
Supersonic missiles and aircraft travel faster than sound but less than five times the speed of sound; hypersonic missiles would break this Mach 5 barrier.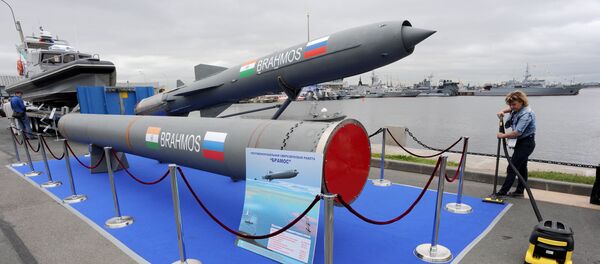 4 December 2017, 18:10 GMT
BrahMos Aerospace is soon expected to start the production of the air-launched version of the missile as Godrej Aerospace, a unit of Godrej & Boyce, has bagged an order for 100 units of airframes for the missiles.
As Indian scientists, with help from Russia, have locally developed specialty aluminum alloy that can be used in the construction of the airframe and fuel tank, the manufacturer will not have to import the alloy from abroad. This would significantly cut the cost of manufacturing.
READ MORE: India's Homemade Specialty Alloy to Drastically Cut BrahMos Cost
BrahMos, considered the world's most formidable precision weapon, is currently only in service in the Indian armed forces. The company says it has an additional order worth over $7 billion from different wings of the Indian armed forces.
READ MORE: India's Propellant Booster to Help BrahMos Achieve Unimaginable Speed
Moreover, with the recent successful test of the air-launched version of the missile last month, the Indo-Russia JV expects a major boost in orders from Asian countries, provided the Indian government gives the go-ahead for the export of the missile systems. 
"We have a set of users (Indian armed forces). We are working with them. We are manufacturing it. However, the issue of exports or other things has to be decided at the level of the Government of India," Mishra added.
The BrahMos missile is a stealth universal supersonic cruise missile that can be launched from ships, submarines, aircraft and land-based platforms. It can be used for precision strikes to destroy targets on land and sea. It can cruise at an altitude as high as 15 km and as low as 10 meters above the ground and currently maintains a speed of more than one kilometer per second throughout the duration of its flights.