The secretary-general of the Palestine Liberation Organization echoed those sentiments, saying Trump had derailed the prospect of a two-state solution for Israel and Palestine and Washington's chances of playing a role in the regional peace process.
"He destroyed the two-state solution," Saeb Erekat, former diplomat and chief negotiator for the Palestinians, told journalists after Trump's speech on Wednesday.
Trump "disqualified his country from any role whatsoever" in the peace process, Erekat added.
"As a chief Palestinian negotiator, how can I sit with these people if they dictate on me the future of Jerusalem as Israel's capital," the politician declared.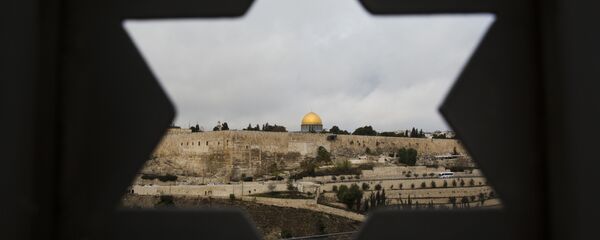 6 December 2017, 18:10 GMT
On Wednesday, Trump announced that "it is time to officially recognize Jerusalem as the capital of Israel," and revealed that he has ordered the Department of State to take measures to move the US embassy from Tel Aviv to Jerusalem. However, Trump also said he signed a waiver delaying the Embassy relocation for six months.
Trump was advised against making the move by Middle Eastern allies including Saudi Arabia and Turkey, who warned that US recognition of Jerusalem as the Israeli capital will inflame conflict in the region.
Despite the controversy, the US president reiterated Washington's commitment to the two-state solution of the Israel-Palestine issue and vowed to do "everything" in his power to facilitate reconciliation between them. He described the decision as "a historic day" and "an important step toward peace."