The White House, isolated during a special United Nations Security Council (UNSC) meeting following an announcement by the administration of US President Donald Trump supporting Israel's claim that Jerusalem must be Israel's — and no other's — capital city, now has additional pushback from the UN.
"The status of Jerusalem must be determined through negotiations between Israelis and Palestinians leading to a final status agreement," stated the five European member nations of the UNSC — including permanent members France and the UK — in a statement following an emergency meeting on the Trump declaration of support.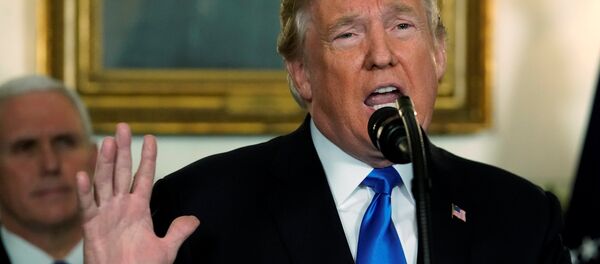 9 December 2017, 18:22 GMT
In pointing out that the EU has "a clear and united position: we believe that the only realistic solution to the conflict between Israel and Palestine is based on two States, and with Jerusalem as the capital of both the State of Israel and the State of Palestine," the five Europe-based members of the UNSC indicated that the European Union will not recognise Israeli sovereignty over the city of Jerusalem, according to The Hindu.
Aside from the strongly-worded statement by the five European members of the UNSC, the emergency meeting ended with no official resolution, although many on the sidelines expressed their agreement that the Trump move was heavy-handed at best, and — at worst — would lead to additional violence in a region that could use a break.
During the hastily assembled December 8 UNSC meeting, UN special envoy to the Middle East Nickolay Mladenov expressed dismay that Trump — acting in his current capacity as president of the United States — officially recognised Jerusalem as the capital of Israel, cited by The Hindu.
UN special envoy Mladenov, a former Bulgarian minister of foreign affairs from 2010-2013, warned that there is a "potential risk of violent escalation," as both Palestinians and Israelis see Jerusalem as "the center of their life, their culture," as well as a "symbol and cornerstone" of religious faith by millions of people.
"Jerusalem is a final status issue for which a comprehensive, just and lasting solution must be achieved through negotiations between the parties," Mladenov asserted, adding that Trump's move has only increased "anger" among Palestinians and "anxiety" in the Middle East.
"Only through constructive dialogue can we hope to achieve peace," Mladenov opined, adding, "I call on all parties to remain engaged."