Authorities have stated that finding boxes of bullets is not uncommon, and that the discovery is unlikely to be linked to terrorism, according to Rt.com.
The ammunition — stashed behind a stack of winter tires in a small plastic bag — was identified by a tenant in an underground car park at Spandauer Damm and the person immediately contacted the police. 
Police identified some 200 new 7.65 caliber bullets sealed in plastic bags and in their original boxes, according to reports.
Berlin: Police swarm near Christmas market as 200 rounds of ammunition found near mosque https://t.co/Ivcc60Dscn pic.twitter.com/IUoOxE3Rsu

— Robert Spencer (@jihadwatchRS) 10 декабря 2017 г.
Following the discovery, local police alerted state security authorities and brought in a forensics unit, hoping to recover DNA traces to help in identifying possible suspects.
"Due to the proximity of the ammunition storage to the Christmas market, and the fact that above the underground car park is a mosque, a dangerous situation is [being] assumed," Bild reported, citing police.
Authorities quickly deployed dog units and searched a nearby park for additional weapons or ammunition stockpiles. Riot police were also deployed to the scene of the Christmas market at Charlottenburg Palace.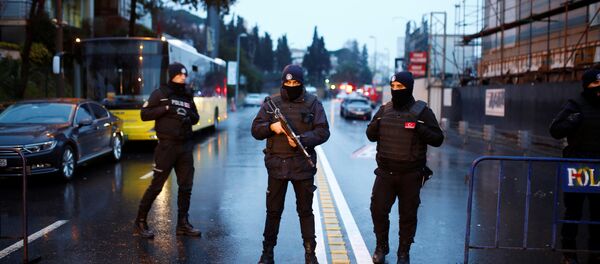 "So far there are no further finds," said police spokesman Winfrid Wenzel.
Berlin authorities say there is "no suspicion" of terrorism, insisting that it's not uncommon to find ditched ammunition in Berlin.
"Ammunition is always being found in Berlin," a police spokesman was quoted as saying by Reuters. "Somebody was probably clearing their cellar out and found something from their grandfather."
Germany remains on high alert, with Christmas markets considered to be sensitive locations and potential targets for extremists due to the many civilians present. On December 19, 2016, a truck was deliberately rammed into a Christmas market beside the Kaiser Wilhelm Memorial Church at the Breitscheidplatz in Berlin. The terrorist attack killed 12 people and injured 56. The perpetrator was found to be a rejected asylum seeker from Tunisia who was killed in a shootout with police near Milan, Italy four days later. Daesh subsequently claimed responsibility for the terrorist act.