TEHRAN (Sputnik) — Iranian President Hassan Rouhani will leave for Turkey to participate in an emergency session of the Organization of Islamic Cooperation (OIC) on Jerusalem, a source from the president's administration told Sputnik.
Turkish President Recep Tayyip Erdogan as the current chairman of the Organization of Islamic Cooperation has announced that the leaders of the OIC members would adopt a road map on the US decision to recognize Jerusalem as the capital of Israel and move its embassy there from Tel Aviv. He has also vowed to urge the OIC to cut ties with Israel.
READ MORE: Erdogan Calls Israel 'Terrorist State' That 'Kills Children', Bibi Strikes Back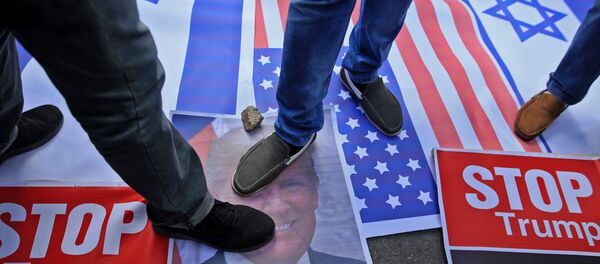 8 December 2017, 15:59 GMT
Commenting on Trump's controverisal move, Iranian President Hassan Rouhani has stated at a meeting with British Foreign Secretary Boris Johnson in Tehran on Sunday that the decision adds fuel to tensions in the Middle East.
Previously, the Iranian Foreign Ministry condemned US President Donald Trump's decision that has been widely criticized by the international community, saying that it violated the UN resolutions.
The international community does not recognize the Israeli annexation of East Jerusalem, a holy site for three religions, and believes its status should be determined based on an agreement with the Palestinians, who seek to create their own state with the capital in the Holy City.