New Delhi (Sputnik) — Russia, India and China have resolved to step up cooperation in combating the spread of terrorist ideology and propaganda, stopping sources of terror financing, preventing terrorists from traveling and choking the supply of arms to terrorists.
The joint statement issued by foreign ministers of the three countries (RIC) in New Delhi on Monday also called for concerted efforts by the international community in stopping the recruitment of terrorist fighters, preventing the misuse of information and communication technologies by terrorists and in dismantling the terrorist infrastructure.
Indian Foreign Minister Sushma Swaraj, who hosted her Russian counterpart Sergei Lavrov and Chinese foreign minister Wang Yi in New Delhi, said that she took up the issue of Pakistan-based terrorist organizations and the need to curb their activities.
"While discussing terrorism, I put across my view that the significant rise in acts of terrorism by terrorist organisations like the Taliban, Daesh (ISIS), Al-Qaeda, and LeT directly undermine international peace and security and endanger ongoing efforts to strengthen the global economy and ensure sustainable growth and development," Swaraj told the media after the meeting.
However, the RIC joint statement did not name Pakistan, unlike the joint document issued after the Brazil-Russia-India-China-South Africa (BRICS) meeting in Xiamen, China, earlier this year.
READ MORE: Need for Stronger India-Russia Ties Amid Changing Global Reality
Nevertheless, addressing a select audience at a function organized by the Indian Vivekananda International Foundation in New Delhi, Russian Foreign Minister Sergei Lavrov said that his country was open to extending all possible Pakistan to root out terrorism from its soil.
"Pakistan has its own interest in getting rid of terrorist organizations using its territory. We will be ready to support Pakistan in this regard," Lavrov said.
Lavrov's statement is being viewed by Indian analysts as the best possible indictment of Pakistan by Russia for supporting terrorists.
"We need to understand the context of Indo-Russian relation today. Russia is not so happy with India for its Indo-US defense cooperation. But despite this, the statement is clear that Pakistan is not a sufferer of terror but its soil is used by terror outfits. Given all these circumstances, India also knows that Indo-Russian relation is a seasoned one with many years of cooperation. If it comes to voting to declare Pakistan a state supporting terror, Russia will surely be by the side of India and its interests," retired Major Gen P K Sehgal told Sputnik.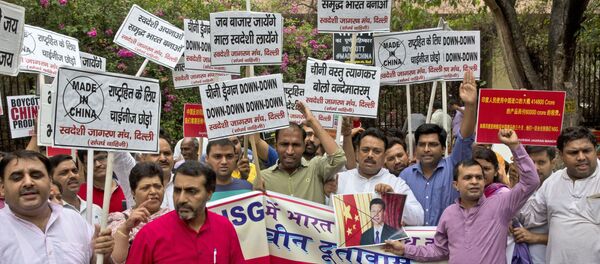 7 December 2017, 11:32 GMT
Meanwhile, the RIC leaders are also deeply concerned about the threat of weapons of mass destruction falling into the hands of terrorist groups, including the use of chemicals and biological agents for terrorist purposes.
"We reaffirm that all acts of terrorism are criminal and unjustifiable irrespective of their motivations, committed wherever and by whomsoever," the joint statement by the RIC leaders read.
The joint statement also called upon the international community to respect international law and the UN Charter, including the principles of sovereign equality of states and non-interference in a country's internal affairs while dealing with terrorism and related issues.