ANKARA (Sputnik) — On Sunday, the launch ceremony for the Akkuyu NPP project was held in the Turkish southern province of Mersin.
"It is important that the work on construction of the first nuclear power plant Akkuyu has been, in fact, launched," Putin said on Monday, following a meeting with his Turkish counterpart Recep Tayyip Erdogan in Ankara.
The Russian president noted that the Turkish Stream project is strategically important for the both countries.
"It is planned to lay two legs along the ground of the Black Sea with a capacity of 15.75 billion cubic meters each. The implementation of this project will undoubtedly strengthen the energy security of Turkey, diversify the supply of Russian gas to other countries," Putin added.
In 2010, Russia and Turkey signed an intergovernmental agreement to cooperate on the construction and maintenance of the Turkish NPP on the Akkuyu site in the Mersin province. The NPP's four power units of 1,200 megawatt (MW) are each expected to produce about 35 billion kilowatt-hours per year.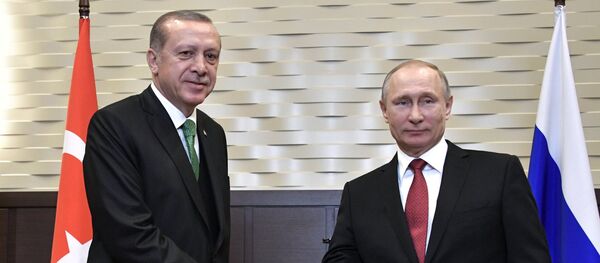 11 December 2017, 18:38 GMT
The Turkish Stream project was announced in late 2014 by Putin during his state visit to Turkey. In October 2016, Moscow and Ankara signed an intergovernmental agreement envisioning the construction. Several European countries have already shown their interest for gas supplies via the Turkish stream.
Putin has been in Ankara on a working visit to discuss bilateral cooperation, as well as to exchange views over the situation in Syria and the crisis sparked by US President Donald Trump's declaration of Jerusalem as the capital of Israel.    
Erdogan invited the Russian President to attend the ceremony to pour the first concrete at the Akkuyu NPP during bilateral talks with the counterpart in the Russian Black Sea resort of Sochi last month.