WASHINGTON (Sputnik) — During an unannounced visit to the Hmeimim airbase earlier on Monday, Russian President Vladimir Putin ordered the withdrawal of Russian troops from Syria to their permanent bases after over two years of an anti-terrorist aerial campaign.
According to US Defense Department spokesperson Eric Pahon, the withdrawal does not affect US priorities in the country.  
"The United States wants a seat at the table for post-conflict Syrian arrangements and so is keeping advisers, allies and active terrorists in the region to maintain legitimacy for its presence," former CIA officer Philip Giraldi told Sputnik on Monday.   
Pahon said that "the Global Coalition will continue to operate in Syria in support of local forces on the ground, to complete the military defeat of ISIS [Daesh] and stabilize liberated territory, in turn allowing for displaced Syrians and refugees to return." 
Giraldi warned that the United States will also continue to fantasize that it can remove Syrian President Bashar Assad from power, although Moscow likely has a good feel for what Damascus can shoulder.
"Putin is operating under the assumption that the Syrian Army can control developments from here on in," Giraldi said. "As his intelligence on that issue is much better than ours [United States], I would assume he is correct."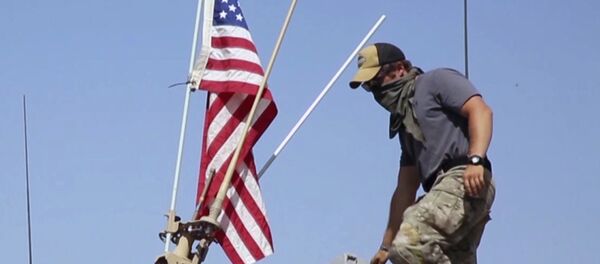 12 December 2017, 02:21 GMT
Russia began a military campaign in Syria in late September 2015 at the request of Assad to fight the Daesh terror group. For the past two years, the Russian army has performed hundreds of airstrikes.
During the Syrian campaign, Russian troops have cleared out more than 90 percent of Daesh-held territories, including the ancient city of Palmyra.
According to the Russian Ministry of Defense, more than 54,000 terrorists have been killed during joint operations in Syria. Russia is still continuring to help Syrian civilians on a daily basis by delivering humanitarian aid and providing medical support.
Philip Giraldi is executive director of the Council for the National Interest, a group that advocates more even-handed US government policies in the Middle East.
The views and opinions expressed by Philip Giraldi are those of the analyst and do not necessarily reflect those of Sputnik.