Theresa May is set to hold a fresh round of talks with European Commission President Jean-Claude Juncker, and is seeking to push the Brexit negotiations to a new level.
The upcoming European Union summit was set to be a decisive event for the UK Government, as it desperately tries to convince the leaders of the 27 EU states that the preliminary part of the Brexit deal is all but agreed upon.
READ MORE: 'Breakthrough We Needed': UK, EU Brexit Talks Move Forward
The first stage of the UK-EU negotiations was concerned with such issues as Britain's outstanding bill, European citizens' rights and the nature of the border between Northern Ireland and the Republic of Ireland.
Last week, Britain finally secured a victory in its talks with the Union, as the principal EU negotiators, including Juncker, declared that a "breakthrough" has been achieved, as "sufficient progress" would allow the talks to go forward.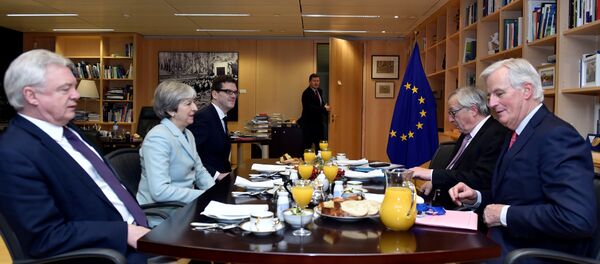 13 December 2017, 14:15 GMT
The "second phase" of the negotiations was to finally unlock the long-sought discussions on trade and economic cooperation between Britain and the EU.
In a surprising twist, however, May's victory lap was somewhat spoiled by a significant domestic setback.
This Wednesday, the UK Parliament narrowly voted in favor of having the last "meaningful say" on the content of the final Brexit deal.
READ MORE: Lawmakers Force UK Government Rethink Over Greater Scrutiny on Brexit Changes
The vote came as a shock to Theresa May's Government, which has bitterly fought against the motion. It passed, in large part, because some 11 members of the Conservative Party voted in favor of the amendment.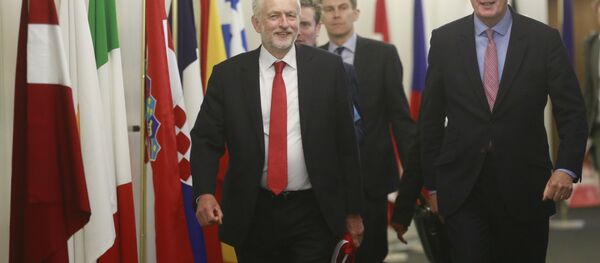 19 October 2017, 11:54 GMT
The rebel Tories included Stephen Hammond MP, the Vice Chairman of the Conservative Party, who was immediately sacked for his role.
In its public statement, Downing Street stated that it is "disappointed that Parliament has voted for this amendment despite the strong assurances…set out."
Labor Party leader Jeremy Corbyn praised the vote, stating that the "defeat is a humiliating loss of authority for the Government on the eve of the European Council meeting."
"Theresa May has resisted democratic accountability. Her refusal to listen means she will now have to accept Parliament taking back control," Corbyn said.
The dramatic loss on the domestic front could indeed jeopardize the upcoming talks with the EU, which may see Theresa's May Government as dangerously unstable.
Earlier last week, the key talks between May and chief EU negotiators were derailed, when Democratic Unionist Party, the Tories' vital coalitional partners, publicly voiced their opposition to the content of the deal, threatening the collapse of the Government.