Three Russian officers carried out a military inspection last week of the Ørland airbase, worth billions of kronor, where Norway's new F-35 fighter jets will be stationed. The inspection is in line with the 2011 Vienna agreement, which gives the signatory countries the opportunity to examine each other's arsenals. Similarly, Norway can control Russian departments, which it also does at intervals.
The Russian request was sent on November 27 and accepted the following day.
"In accordance with the Norwegian practice, a great deal of openness was displayed during the inspection," the Norwegian Air Forces wrote. "All the data and the photographs were subject to Norwegian control and fully within the framework of unclassified information," the Norwegian Armed Forces ensured.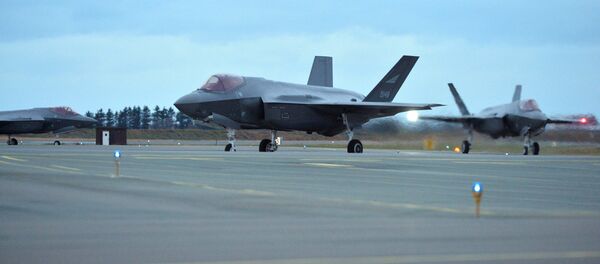 10 November 2017, 08:36 GMT
The Russians were briefed about the organization of the base, its materiel, personnel, education, training and ongoing construction projects, including fighter jets as well as combat and rescue helicopters. Among other things, the Russian officers saw one of Norway's first
F-35s
, which landed on Norwegian soil in early November.
"The Russian officers had a number of questions during the evaluation. They exhibited, as expected, a keen interest in the new combat aircraft, but also in the other capacities of the 132nd air squadron," Lieutenant Colonel Sven Svensson of the Arms Control Agency told Aftenposten, a Norwegian daily.
​Previously, Aftenposten wanted to make a report on how the tax-payers' money was being spent at Ørland and requested photographs from the base on a number of occasions in 2017, but was refused by the Air Force. Furthermore, when former Defense Minister Ine Eriksen Søreide inaugurated the new maintenance hall at Ørland in August, limitations set by the authorities included taking pictures of the military orchestra.
Aftenposten questioned General Lieutenant Tonje Skinnarland, the chief of the Air Force, about whether she saw the "paradox" in denying insights to own reporters while providing "open guided tours" to the Russian military. The Air Force refused to comment, referring to the underlying agreement prior the inspection.
​The Ørland airbase is situated near the city of Trondheim; its structures total 45,000 square meters in size, although more than half of the base remains slated for reconstruction.
​In total, NOK 12 billion ($1.5 billion) was spent on updating Ørland and Evenes, where the future fleet of 52 F-35s, worth approximately NOK 80 billion ($9.6 billion), will be stationed. An additional NOK 1.3 billion ($160 million) was spent on noise-proof housing near the base.