An unpleasant video emerged on the internet showing Israeli troops in heavy riot gear violently dragging two Palestinian teenage girls out of a Red Crescent ambulance in the Hebron district in the southern West Bank.
The amateur video, showing the ongoing clashes between Palestinian protesters and Israeli security forces following Washington's decision to recognize the multiethnic and multi-confessional city of Jerusalem as Israel's capital, captured two Israeli troops walking up to the open door of an ambulance parked in the street. 
With medics looking on helplessly from the front seats, the heavily-armed soldiers attempt to violently pull the young women out of the ambulance. As they resist and begin screaming, one soldier calls for backup as the other climbs into the vehicle. About a half-dozen more troops show up to pull the girls out.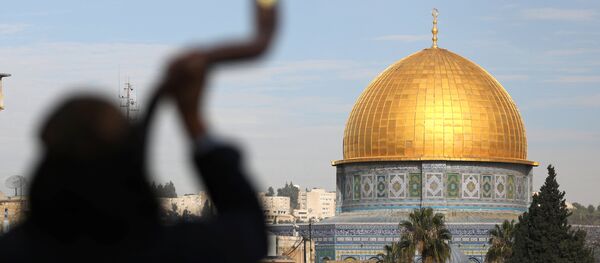 15 December 2017, 00:49 GMT
An eyewitness from the scene told Palestinian news agency Ma'an that the teens were handed off to female Israeli soldiers, who handcuffed the girls and detained them.
The girls' identities, and the charges under which they were detained, remain unknown.
The video footage caused outrage on social media.
President Donald Trump's decision to recognize Jerusalem as the Israeli capital has sparked widespread protests among Palestinians and across the Middle East, and condemnation from around the world, including from Washington's European allies. Trump's decision, which envisions relocating the US Embassy from Tel Aviv to Jerusalem in six-months' time, led the Palestinian political and militant group Hamas to declare an intifada, while Palestinian President Mahmoud Abbas warned Wednesday that if the decision wasn't reversed, Palestine would withdraw from all previous agreements with Israel.