MOSCOW (Sputnik) – German media reported on Saturday that BND covertly provided a number of journalists with information containing criticism of Russia before the data were disclosed by the agency.
The information was provided during unofficial conversations with some reporters, the Tagesspiegel media outlet reported citing its sources in the BND. No further information about these conversations is available.
In mid-November, BND Chief Bruno Kahl called on western countries to make sure they are ready to counter any "potential threat" posed by Russia while at the same time maintaining "close ties" with Moscow.
"To put it bluntly, instead of having a partner for European security, we are more likely to face a potential threat in Russia," Kahl said in an interview to the Sueddeutsche Zeitung newspaper, adding that the Western states should also support close relations and communication channels with Russia in case Moscow reaches out to say it is interested in cooperation.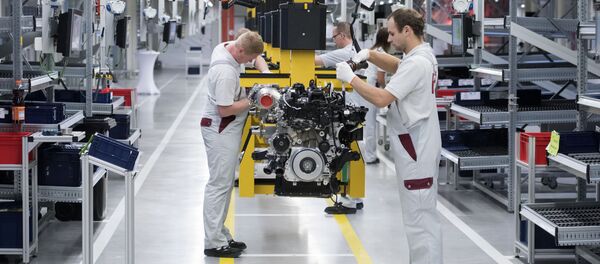 24 November 2017, 01:49 GMT
The relations between Russia and western countries including Germany deteriorated in 2014 after eruption of the Ukrainian crisis and Crimea's decision to rejoin Russia. The United States, the European Union and their allies accused Moscow of meddling in Ukraine's internal affairs and imposed sanctions on Russia. Moscow refuted the accusations and introduced a food embargo against the countries, which resorted to restrictive measures against Russia.
Citing Russia's alleged meddling in the Ukrainian crisis, NATO has been gradually boosting its military buildup in Eastern Europe. Following the July 2016 summit, the alliance announced that it would deploy four multinational battalions to Lithuania, Latvia, Estonia and Poland. In May, Kremlin spokesman Dmitry Peskov said that while Russia was not a threat to anyone, Moscow could not ignore any actions that could present a threat to its own national interests.
In a recent interview with Russia's Rossiya 24 television channel Peskov said that the continuous pressure Moscow has been exposed to is part of attempts to suppress the country's "sovereign voice".
"What we are now facing is a confrontation that is probably connected with attempts to strangle Russia's sovereignty, Russia's sovereign voice, with attempts to strangle Russia's growing capabilities and its ability to communicate its opinion to the world community, the growing potential, including technological, from the point of view of information technology, to broadcast its voice in terms of refuting those false news that go against our country," Peskov said.