It has now come to light that he is going to run a presidential campaign in the upcoming year, according to sources close to the family, Egypt Today reported. Basem al-Hashimi al-Soul, the spokesman of the Gaddafi family, has confirmed the report in an interview to RIA Novosti:
"Saif al-Islam will announce his running for presidency in the near future – this is an already decided issue, it's no longer being discussed. He will announce his decision from television screens and in mass media. He will fix the concrete date one of these days," al-Soul said.
"Saif al-Islam Gaddafi, the son of the former Libyan president, enjoys the support of major tribes in Libya so he can run for the upcoming presidential elections due in 2018," al-Soul remarked.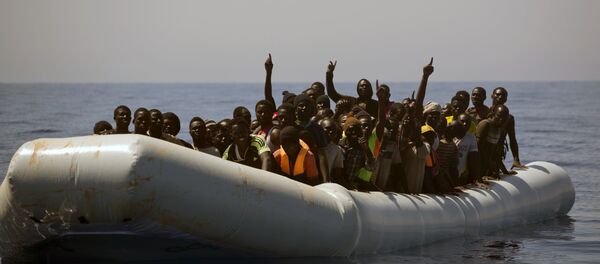 15 December 2017, 15:45 GMT
He went to say that Saif is planning to engage in an effective dialogue between all the Libyan factions and step up the country's defense "to impose more security and stability in accordance with the Libyan geography."
The news hasn't come unnoticed on social media, with some still doubting its authenticity, while others see the move as revenge:
Others are pinning their hopes on Muammar Gaddafi's son to ultimately unite the nation and end the ongoing anarchy:
Observers say Gaddafi could still make a political comeback if elections are held next year and he is allowed to stand them, since the situation is complicated by his 2011 indictment from the International Criminal Court (ICC) for alleged crimes against humanity. The document stated he had presumably ordered the killing of protesters in order to defend his family. He was also sentenced to death by a Tripoli court in 2015, though that trial was performed in absentia and was widely criticized by international human rights organizations.
READ MORE: Libyan National Army Commander: Government of National Accord Lost Legitimacy
Saif Gaddafi was released from prison six months ago under state-initiated amnesty, having served his six-year term after the NATO-backed uprising ousted his father. The country has been fragmented since then, its western and eastern parts currently governed by a number of militia groups.