Gaddafi family spokesman Basem Hashimi Soul said Monday that Saif Islam Gaddafi would run for president in 2018 and announce his decision in the next few days.
A Libyan militia said in June that they had released Gaddafi's son, whom they had been holding captive since 2011, when Libya descended into political unrest. In June 2011, the International Criminal Court issued a warrant for the arrest of Saif Islam Gaddafi over suspicion of murder and persecution.
Following reports of Gaddafi's release, the ICC Prosecutor urged the Libyan authorities, the UN Security Council, and all other relevant states and entities to share information on the suspect's whereabouts.
Slim Chances of Victory
Gaddafi may be backed by some in Libya, but it is unlikely to be enough for him to win the presidency, according to Federica Saini Fasanotti, a nonresident fellow at the Center for 21st Century Security and Intelligence, of the Foreign Policy program at The Brookings Institution.
"His father's legacy is something that cannot be forgotten by Libyans. Loyalists are present in Libya, above all in the strategic area of Sirte, but they are not enough to guarantee him the necessary political support," Fasanotti told Sputnik.
Saif Islam Gaddafi did not hold an official position in his father's government but was considered to wield significant influence.
READ MORE: Family Confirms Gaddafi's Son's Decision to Run for Libyan Presidency
Alison Pargeter, a senior research associate at the Royal United Services Institute (RUSI) and Senior Associate at the global consulting firm Menas Associates, said that many Libyans would not want Gaddafi's son as president, although he may count on support in some parts of the country.
"Saif Islam has a degree of support drawn from some of those tribes who were loyal to the former regime. This support is concentrated in certain areas of Libya, such as Wershefana in the west, as well as areas in the south and to a lesser extent areas in the east. However, in the eyes of many Libyans, he is still seen as tainted by his past and they would not stomach the suggestion of him becoming president or indeed of having any political role," Pargeter told Sputnik.
Teaming Up With Haftar
Libyan National Army Commander Gen. Khalifa Haftar said Sunday that the Libyan Political Agreement, which was signed in Skhirat in Morocco in 2015, had expired and that he would no longer recognize the political entities linked to the agreement.
The National Army headed by Haftar backs the House of Representatives, based in the city of Tobruk in the east of the country. A significant portion of the country is controlled by the UN-backed Government of National Accord, which was set up under the terms of the Skhirat agreement. A number of other local forces are involved in the ongoing conflict in Libya.
READ MORE: EXCLUSIVE: Gaddafi's Son 'Returning to Politics', 'He Will Never Leave Libya'
According to Pargeter, Haftar's announcement may cause further instability in the country, which will not be helpful to Gaddafi.
"Haftar's announcement is likely to trigger further instability… and could unleash a potential backlash. However, this will not necessarily work in Saif Islam's favor. His power base is still too limited for him to be able to garner real support, or for him to make use of any instability to his own benefit," the RUSI researcher said.
However, Alessandro Bruno, an analyst at Toronto-based advisory firm Lombardi Letter and former UN officer in North Africa, suggested that Haftar "may have eliminated Skhirat but also gained support of the people," who want stability, following seven years of unrest, and Gaddafi could benefit from an association with the Libyan National Army commander.
"Haftar is gaining support… In this sense, Saif Islam can benefit from this climate. People – not only in Libya – will associate his last name with stability… Gaddafi and Haftar might even team up," Bruno told Sputnik.
Haftar's help would be especially beneficial to Gaddafi in Cyrenaica, a province in the east of Libya, where the civil war started in 2011. According to Fasanotti, this region, in particular, is unlikely to accept Gaddafi as president.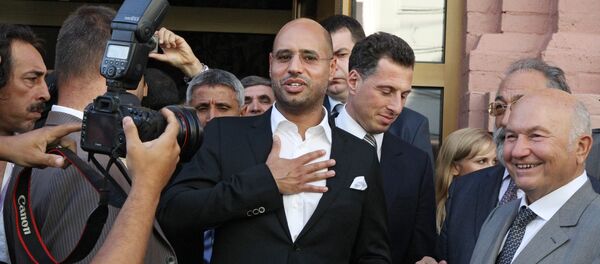 18 October 2017, 11:56 GMT
"I would be very surprised if Libyans, above all in Cyrenaica, would accept him, after the 40 years of a ruthless regime that destroyed completely the country, that leveraged on any possible friction to govern, that sacrificed so many Libyans for nothing, that destroyed the sense of a nation and the basement of the State," the Brookings scholar said, adding that in her opinion the Skhirat agreement had never existed and it "was just a farce."
However, Bruno suggested that Gaddafi, given his history with the militias that held him captive, might be able to bring stability to the troubled country.
"They [the militias] control much of northwestern Libya and if they kept him [Gaddafi] alive, they intend to exploit their investment politically. Gaddafi could help bring stability among the northern Libyan tribes in a way none of the other Libyan politicians have done," Bruno said.
Besides, Gaddafi might be able to secure the support of Russia and Egypt, according to the analyst.
"Overall, Saif Islam would also likely be able to secure support from Egyptian President [Abdel Fattah] Sisi and [Russian] President [Vladimir] Putin as well. He would also get quiet support from Mediterranean Europe (Italy in particular), which fears that left unchecked Libya will become overrun by migrants and unable to stop their flow," Bruno said.
Not Like Father
According to Fasanotti, Gaddafi would try to distance himself from his father's legacy, if he were elected.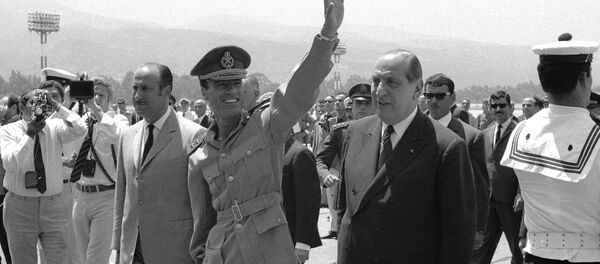 1 September 2017, 13:45 GMT
"At the beginning, he probably would step away from his father's actions, but I am not so sure he could behave in a very different way. He did not do it when his father was alive, I do not see why he should use different means today," Fasanotti said, stressing that his election was highly unlikely.
Pargeter also said that Gaddafi would not be able to govern the same way his father did, as Libya in its current state could hardly support a strongly personalized rule.
"Were he to be elected — something that is extremely unlikely — he would not be able to rule in the same way as his father. Libya has fragmented in a way that precludes any strong centralized or highly personalized authority from being able to take over the whole of the country," Pargeter said.
Muammar Gaddafi, who had ruled Libya for four decades, was overthrown and killed in 2011.
The views and opinions expressed by Federica Saini Fasanotti, Alison Pargeter and Alessandro Bruno are those of the experts and do not necessarily reflect those of Sputnik.