The bill was proposed by the Saeima's human rights and public affairs commission with an aim to "honor the merits" of Latvian citizens that during World War II served in the regular military forces of other states and took part in armed fighting against the forces of the USSR, Nazi Germany or its allies.
According to the law, Latvia "bears no legal responsibility for the actions of the occupation authorities during its occupation."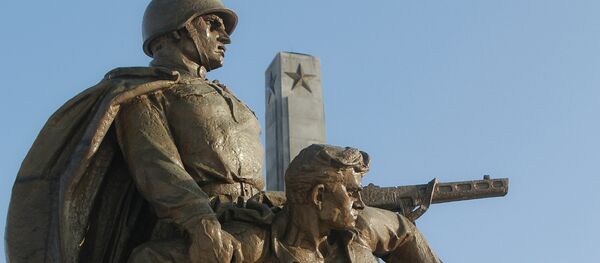 Several thousands of World War II participants currently reside in Latvia, those that fought on the side of the Red Army and as well as those that fought on the side of the Latvian Legion of Waffen-SS, created in 1943.
Multiple acts of vandalism against the Soviet war monuments have occurred in countries of Eastern Europe over the recent years. For instance, the mass grave of Soviet soldiers in the Polish city of Sosnowiec and places of remembrance in Warsaw and Olsztyn. In July, Polish President Andrzej Duda signed into law a bill on the prohibition of communist propaganda that regulates the demolition of Soviet-era monuments. In Bulgaria, apart from the Alyosha monument, Soviet Army Monument in Sofia often gets vandalised too, giving rise to the harsh comments from the Russian Foreign Ministry. The Russian Foreign Ministry also condemns desecrating the honor of the Soviet warriors.