The context for PM Theresa May's visit to Poland is in the midst of both countries seeking to assert their national sovereignty vis-à-vis Brussels. Signaling the desire for post-Brexit Britain to continue, and even deepen, its security cooperation with Poland, the UK is set to propose a new bilateral defense agreement between the two countries. This is extra significant, given that France is currently the only European country to have a bilateral defense agreement with the UK.
READ MORE: EU Reveals Deadline for Brexit Transition Period: No Later Than Dec 31, 2020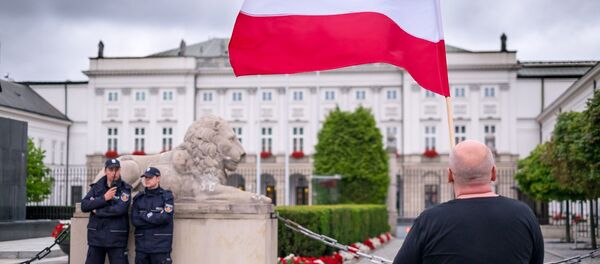 20 December 2017, 14:52 GMT
Highlighting the importance of the UK's relationship with Poland, the UK PM Theresa May is expected to state that not only will Brexit not weaken their relationship, but will function as a catalyst to strengthen it. The new agreement is intended to provide a framework for greater cooperation in training, information exchange, defense procurement, as well as joint exercises.
"Our partnership is broad, vibrant and diverse and we both share a steadfast commitment to Europe's security and defense," the British PM will say, the Prime Minister's Office writes in a statement.
In anticipation of May's visit to Poland, the EU's Brexit chief negotiator Guy Verhofstad accused the Polish government of "backsliding" on the rule of law and of "undermining" European values.
"I hope Theresa May will firmly raise this issue in Warsaw. This visit is an important first test of the UK's pledge to defend European liberal democratic values, as we move forward together to build a strong security partnership," Verhofstad told British newspaper The Telegraph.
While May has said that she will "raise her concerns" with her Polish counterpart Mateusz Morawiecki, the Guardian reports that the UK has remained ambiguous about its position on the controversial Polish reforms due to a perceived image of the EU meddling in the domestic affairs of a sovereign country.
READ MORE: 'We Want Our Country Back': Sputnik Visits Thetford, Key Brexit Front Line
The UK is under pressure to find support in its ongoing negotiations with the Brussels over Brexit. By reaffirming Britain's post-Brexit commitment to its relationship with Poland, as well as regional Polish security concerns, it is hoped that it might count on Polish support in the upcoming talks.
The Commission suggested on Wednesday the unprecedented move to invoke Article 7 of the Lisbon Treaty in response to the Polish government's defiance of the EU in introducing the judicial reforms within the country. Poland's government has further found itself at odds with the EU over its opposition to mandatory migrant quotas, but has found a handful of partners in its opposition to the policy, notably Hungary's Viktor Orban. Hungary has said that it will veto any move by the EU to impose sanctions on Poland.