"I believe that any future government will examine the project and will support it just like the incumbent chancellor and foreign minister. I do not have any concerns with this regard," Schroeder said answering questions of reporters from the Deutsche Welle newspaper and the Mitteldeutscher Rundfunk radio station about the impact of long-running government formation on the project.
Schroeder advised the future federal government to stick to the course on cooperation with Russia rather than confrontation.
READ MORE: Denmark Passes Law That Could Ban Nord Stream 2 From Going Through Its Waters
"I advocate lifting of sanctions step by step based on what is going on in Donbas instead of thinking about tightening [of the sanctions] all the time," Schroeder said, adding that the sanctions have an adverse effect on Germany first of all.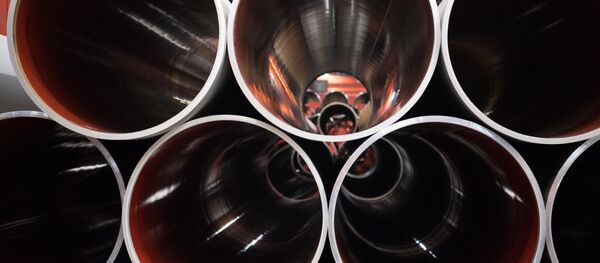 15 December 2017, 14:24 GMT
The Nord Stream 2 project proposes the construction of two gas pipelines from the Russian coast, through the Baltic Sea and on to a hub in Germany. The pipelines are expected have a combined annual gas capacity of 55 billion cubic meters.
On September 24, the Germans elected the federal parliament. The CDU/CSU alliance won the election with 33 percent of votes and secured 246 seats in the parliament, while the SPD came second with 20.5 percent of votes, which is equivalent to 153 seats in the 709-seat Bundestag.
READ MORE: New EU Legal Norms for Nord Stream 2 Could be Political Discrimination — Lavrov
Since then the German parties have failed to form the ruling coalition, particularly by joining efforts of the CDU/CSU, the Greens, and the Free Democratic Party (FDP). The SPD initially refused to form the so-called grand coalition with the conservative bloc, however, coalition talks were subsequently scheduled for early January.