Last month, Ukrainian authorities banned two books of fairy tales – 'Ilya Muromets and Nightingale the Robber: Tales of the Russian Bogatyrs' and 'Bogatyrsky Russian Fairy Tales'. The children's books, consisting of epic fiction dedicated to the folk heroes of Kievan Rus, are published in Russia. 
The ban left many Ukrainians puzzled, especially because contemporary Ukraine is seen as one of the three East Slavic successors of Kievan Rus, which as the name indicates, was based in Kiev. Some historians even believe that Muromets' real life prototype was Ilya Pechersky, a medieval warrior turned-monk and Orthodox saint who served the princes of Kievan Rus, and whose remains are preserved at the Kiev Pechersk Lavra monastery.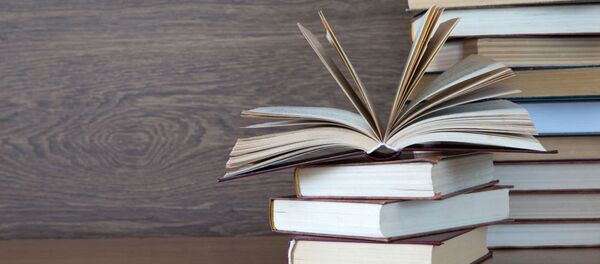 20 December 2017, 02:01 GMT
On Thursday, Ukrainian news portal Ukrainski Novosti got to the bottom of Derzhkomteleradio's decision,
publishing
screenshots of an agency protocol dated November 27 outlining the 'reasoning' behind the ban.
According to the protocol, the two books of fairy tales belong to the category of "propaganda of the aggressor state," and promote its "imperial geopolitical doctrines." The books, the document says, support "the unification of nations around the aggressor state, its state language, culture, dominant religious confession (Orthodoxy) and serve as the ideological basis for Ukraine's return to the sphere of domination of the aggressor state."
The books about the Bogatyrs join over a dozen Russia-themed books banned for sale in Ukraine since the Goskomteleradio committee began its work earlier this year. These include the 'Great Encyclopedia for Schoolchildren', edited by Sean Connoly, historian Antony Beevor's WWII epic 'Stalingrad', a Russian language textbook, and two novels by Georgian-born writer Boris Akunin on Russian history. Last week, Ukrainian Deputy Prime Minister Vyacheslav Kirilenko announced that the illegal Russian books would be seized, and its sellers fined between 32,000-330,000 hryvnia (about $1,150-11,910 US), if they were found in bookstores.
Over the last three three and a half years, Ukrainian authorities have devoted considerable resources to try to curb what they see as Russia's harmful cultural influence on the country. Kiev has blacklisted dozens of Russian artists, banned Russian television broadcasts, barred the sale of hundreds of Russian and Soviet films and books, and prevented Russia's contestant in the 2017 Eurovision Song Contest from entering the country.