New Delhi (Sputnik) — Mongolia and India are expected to soon start the construction work at Mongolia's first oil refinery as the landlocked country hopes to eliminate its dependency on its neighbors for energy needs. The Engineers India Limited (EIL) has developed the detailed project report (DPR) of the refinery while the Mongolian Oil Refinery will work as the focal agency of the project. 
Furthermore, India has provided a line of credit, which includes a $700 million loan for the oil refinery and $264 million for oil pipelines. The loan was announced during Prime Minister Narendra Modi's visit to the East Asian country in 2015. The 20-year loan will have an interest rate of 1.75 percent and principal payments will be waived during the first five years. 
The refinery will have a processing capacity of 1.5 million metric tons of oil per year and will annually produce 560,000 tons of gasoline and 670,000 tons of diesel fuel, as well as 107,000 tons of liquefied gas. The refinery could boost Mongolia's gross domestic product by 10 percent. Presently, Mongolia exports crude oil to China while importing petroleum products from the Russian Federation. 
 "The oil refinery project will help Mongolia to eradicate or reduce the dependency. At the same time, we are very much hoping it would help to save a lot of foreign exchange and reallocate it for other necessities," G Ganbold, the Mongolian ambassador to India, said. 
Mongolia is just recovering from a severe economic downturn caused by falling commodities prices, which, in turn, forced the country to renegotiate a $4.2 billion loan from Beijing.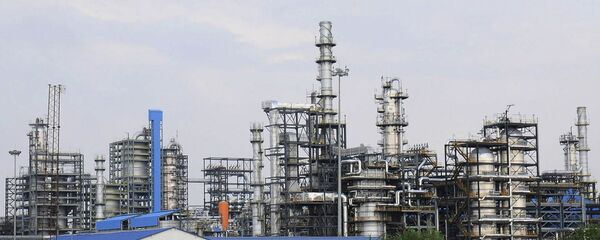 19 December 2016, 13:58 GMT
New Delhi has been working on consolidating this new found strategic cooperation as evident from the back to back high-profile visits of dignitaries between the countries scheduled for 2018. Rajnath Singh, India's minister of home affairs, is scheduled to visit Mongolia early next year, which was originally slated for June this year, but had to be postponed as the minister suffered a bone fracture. Soon after that, Mongolian President Khaltmaa Battulga, a vocal critic of China, will visit India. The Mongolian people had wholeheartedly supported Battulga in the election due to his advocacy for greater economic independence from China to which the country exports 90 percent of its goods.
The Narendra Modi government hopes to cash in on this aspiration of the Mongolian public to divert the trade risk based on traditional bilateral connections. India was the first country outside the then Socialist Bloc to establish diplomatic ties with Mongolia in 1955. India had also supported Mongolia in getting United Nations and Non-Aligned Movement (NAM) berths.