The upcoming New Year's Eve party at Brandenburg Gate in Berlin, is expected to attract thousands of revelers. It reportedly will feature 'safe zones' for women keen on partying without have to worry about being grabbed by salacious strangers.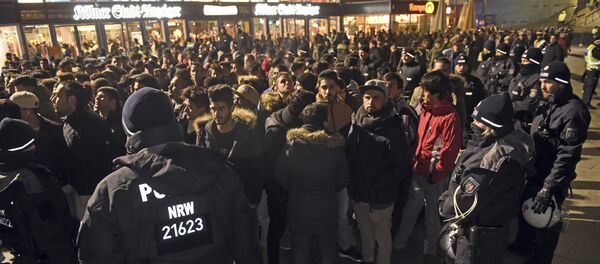 16 December 2017, 15:53 GMT
The area will be staffed by German Red Cross workers and is designed to act as a safe space for women who feel harassed.
Anja Marx, a spokeswoman for the event, told The Guardian that the zone will also feature a tented area with counselors, adding that the safety zone concept is being implemented in the city "for the first time."
"The police requested it after they did it at the Munich Oktoberfest this year and it worked out well," Marx explained.
However, Rainer Wendt, a former police officer and chairman of the German Police Union, said that this measure sends a "disastrous message" and that "whoever came up with that idea has not understood the political dimension," DW reports.
"With this message, you're saying that there are safe and unsafe zones," Wendt said, adding that this initiative would essentially result in "the end of equality, freedom of movement and self-determination."
The New Year's Eve celebrations in Cologne two years ago were marred by mass sex attacks and chaos which were largely ascribed to the influx of mostly male migrants to Germany from the Arab world and Africa as a result of the 2015 refugee crisis.