"The Chinese had expected Hillary Clinton to win the White House, so many Chinese elites had invested heavily into her campaign by pouring lots of Chinese funding into her Clinton Foundation charity hoping such generosity will provide them with sweetheart business deals when she enters the White House," Beijing-based CCTV Panview editor and commentator Tom McGregor suggested in an interview with Sputnik.
Chinese Elites, Democrats and the Clinton Foundation
The journalist opined that the Chinese elites, "who are usually astute business people and deal-makers," felt very disappointed that the Democratic presidential nominee lost the election, since after spending money on the charity they have not reaped any financial benefits from it.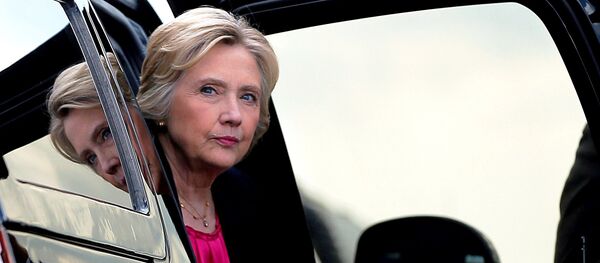 In 2016 China's media outlet the People's Daily
reported
that the country's e-commerce giant Alibaba and a number of other Chinese enterprises had come under scrutiny, and were being forced to comment on their contributions to the Foundation over the Hillary Clinton email controversy.
According to the media outlet, the companies "have altogether donated less than $1 million."
However, in 2015 a CBS News investigation revealed that Rilin Enterprises, a privately-held Chinese construction and trade conglomerate led by billionaire Wang Wenliang, pledged $2 million donations to the Clinton Foundation in 2013. It was also reported that the firm had spent $1.4 million from 2012 to 2015 while lobbying the US Congress and the Democrat-run State Department.
When asked whether those who donated to the Clinton Foundation are aware of the controversy surrounding the charity, which Wall Street analyst Charles Ortel dubbed "the largest unprosecuted charity fraud ever attempted," McGregor pointed out that "the Chinese donors are not naive."
In his interviews with Sputnik, Ortel, who has been conducting a private investigation into the Clinton Foundation in the past few years, has repeatedly warned the charity's foreign sponsors about serious discrepancies in the Foundation's documentation which prompt justified fears about alleged fraud and money laundering.
In this context, the CCTV editor, dropped the hint that President Xi may "renew his sweeping crackdown on corruption starting in 2018."
READ MORE: Why the Fall of the House of Clinton May Trigger Domino Effect Worldwide
According to McGregor, part of the Chinese business elite could maintain ties with both the Clintons and their influential backer — Hungarian-American billionaire George Soros.
"To get a closer look at the Chinese forces that have tied all their investments and support to the Clintons, I would suggest a trip to Tsinghua University in Beijing that has allowed pro-Hillary NGOs and think tanks to reside there," McGregor noted, referring to Carnegie-Tsinghua Center for Global Policy, the Brookings-Tsinghua Center and the UN-partnered Tsinghua's Green University for Climate Change Action, which are known for their left and center-left bias.
McGregor also noted that "when billionaire hedge fund investor and Open Society founder Soros visits China, he does meet and greet at Tsinghua University."
"If Xi and his investigators want to find evidence of collusion, treason and criminality among corrupt Chinese officials then it's a good idea for investigators take a closer look at what's happening at Tsinghua University, which would be a good place to start uncovering alleged illicit Chinese connections with the Clintons," he suggested.
© AP Photo / Kevin Wolf
Soros Fund Management Chairman George Soros testifies on Capitol Hill in Washington (File)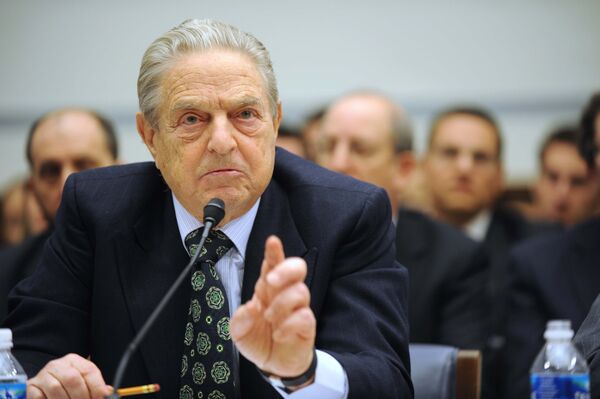 Soros Fund Management Chairman George Soros testifies on Capitol Hill in Washington (File)
Chinese Businessmen Still Hope That Clinton Will Return to Power
Meanwhile, some of the Chinese businessmen still believe that Donald Trump's tenure will not last long and he will eventually face impeachment, McGregor noted.
"Those Chinese elites who continue to support the Clintons and Obamas have failed to learn lessons from Trump's sweeping victory to the White House in 2016," the journalist said. "Accordingly, they still rely too much on the Western media and hold faith in the media narrative that Trump will soon be impeached from office and when it happens, Hillary will use a scheme to move into the White House."
However, according to the CCTV editor, many Chinese have begun to realize that the CNN narrative predicting Trump's doom is nothing but "fake news."
READ MORE: Why US Politicians Keep Clinton Probe Under the Rug, Bolster Trump-Russia Case
"The Chinese feel angry, not because CNN supports Hillary, but because they allowed themselves to believe in the fake news," McGregor pointed out. "There's a cultural phenomenon in China, which had been taught in the Four Great Classical Novels of China. The notion is that the liar is not a sinner, but it's the person who falls for the liar's trap who deserves rebuke. That's because it demonstrates stupidity or irrational emotions on the victim's part."
Therefore, those Chinese "conned by the Clintons" will be "viewed with mockery by the rest of the Chinese," especially if Trump is re-elected in 2020, McGregor said.
© REUTERS / Jonathan Ernst
U.S. President Donald Trump departs for holiday travel to his Mar-a-Lago estate in Florida, from the White House in Washington, U.S. December 22, 2017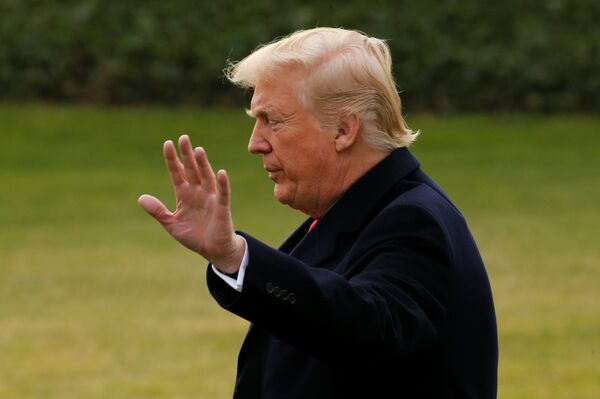 U.S. President Donald Trump departs for holiday travel to his Mar-a-Lago estate in Florida, from the White House in Washington, U.S. December 22, 2017
'The Chinese Feel Embarrassed by North Korea's Belligerent Actions'
Speaking to Sputnik, McGregor bemoaned the fact that "there's too much fake news coming out of the Hong Kong and Western media, which has highlighted the Chinese government in a negative and unfair light."
"According to my observations and discussions I've had with Chinese people, some of whom I will cite as anonymous sources to protect their careers, it's necessary to get a better understanding of what's really happening in China," the journalist stressed, "One of the views that's gathered steam is that China loves North Korea and holds a negative stand against US President Donald Trump for seeking to impose tougher measures against North Korea."
According to the journalist, the mainstream media put particular emphasis on incidents in which "corrupt Chinese officials smuggling oil to North Korea, which is now forbidden by Chinese law."
READ MORE: Beijing Blasts Trump's Claims on Chinese Oil Sales to North Korea
McGregor noted that in the Western media's eyes this proves that China supports North Korea, "but in Chinese eyes it's seen as another good reason for Chinese President Xi Jinping to crackdown on corruption."
"The corrupt officials have caused China to lose face as a strict enforcer on North Korea economic sanctions. In all likelihood, all those involved will get arrested and face very long prison sentences and deservedly so," he noted.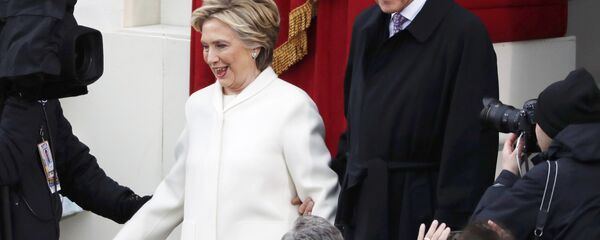 21 December 2017, 16:45 GMT
The journalist noted that the ordinary Chinese "feel embarrassed by North Korea's belligerent actions and flagrant attempts to build an arsenal of nuclear weapons." He opined that the Chinese do not oppose Trump's pressure on their troublesome neighbor.
Regarding Trump's "pivot to Asia" policy, McGregor noted that Beijing and the Chinese are not that concerned about it: "The Chinese are not paying too much attention to it, because Obama had failed to deliver fruitful results from his pivot so they don't expect much success from Trump as he just copies the failed diplomatic strategy initiated by the Obama administration."
The views and opinions expressed by Tom McGregor, Ekaterina Blinova are those of the contributors and do not necessarily reflect those of Sputnik.