Soldiers from the US-supported Syrian Democratic Forces (SDF) have provided the Ruptly video news agency with new video evidence showing the unimpeded retreat of Daesh (ISIS) forces from its former de facto capital of Raqqa late last month. 
According to the soldiers, about 3,000 people left the city in trucks and buses, including jihadist militants and members of their families, some believed to have fled for the Turkish border while others escaped deeper into Syria.
"I saw the [Daesh] fighters. They left in buses headed for Deir ez-Zor. I don't know where they went after that, whether to Abu-Kamal or to Mayadeen. There were about 3,000 people fleeing – [Daesh] fighters along with their family members. About a thousand were injured. Others seemed to be unharmed," one SDF fighter said.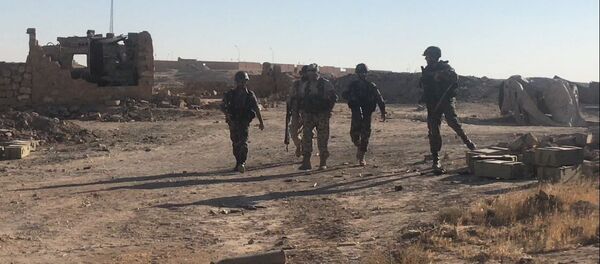 30 December 2017, 16:04 GMT
"I was working at the grain store house when we saw the [Daesh] militants leave," another fighter, the one who captured the video footage on his mobile phone, said. "There were lots of them but we were not afraid," he added.
Last month, after several media outlets released a document allegedly including provisions for a month-long truce between Daesh and the SDF, a former SDF spokesman told Turkey's Anadolu news agency that the US and its allies allowed the terrorists to leave Raqqa to shore up the defense of Daesh positions in Deir ez-Zor province against the Syrian Army. US Army Colonel Ryan Dillon later admitted to the existence of the truce, but insisted that it was "never a 'secret'" and that "this was a local solution to a local issue."
The footage comes amid a fresh report this week from Syrian media that US military helicopters have been transporting Daesh field commanders from Deir ez-Zor to Syria's Al-Hasakah province. The US military's CJTF-Operation Inherent Resolve Public Affairs Office told Sputnik that the allegations were "a laughably bad attempt at misinformation."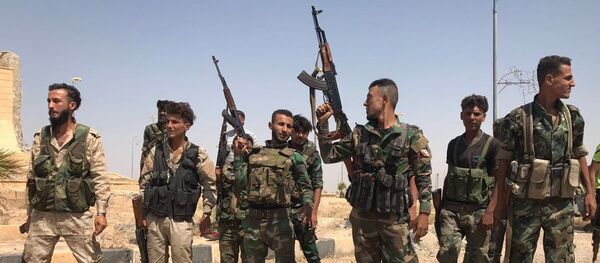 30 December 2017, 16:40 GMT
In recent months, Moscow and Damascus have repeatedly
accused
Washington of providing various forms of support for Daesh and other terrorist groups operating in Syria. In mid-December, the Russian ministry of Defense accused the US-led coalition of using a camp in al-Hasakah province to train militants being reorganized into a so-called "New Syrian Army."