At least two protesters turned up dead as a result of the wave of civil disobedience that has gripped Iran since last Thursday.
Both men were killed in Doroud, a city in the Iranian province of Lorestan, with local authorities blaming foreign agents for this loss of life.
"No shots were fired by the police and security forces. We have found evidence of enemies of the revolution, Takfiri groups and foreign agents in this clash," deputy province governor Habibollah Khojastehpour told state television. "Takfiri" is the name that Iranian state media sources usually use to describe Sunni fundamentalists who target Shiites in Syria and elsewhere, such as Daesh (ISIS) and the Al Nusra Front.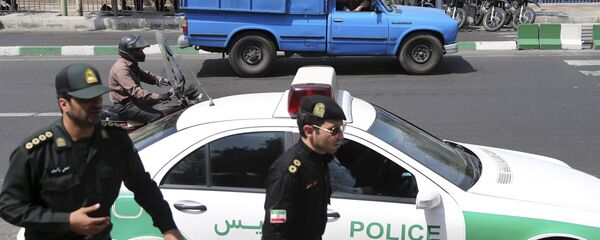 29 December 2017, 16:54 GMT
The protests erupted on Thursday, December 28th and by the weekend they had already engulfed several cities across the country, including Tehran, with thousands of people coming forward to express their discontent.
The protesters have issued a variety of demands, such as calls for the ouster of Supreme Leader Ayatollah Khamenei and President Hassan Rouhani, to put an end to the military operations in Syria and to improve the country's economy.
The authorities also arrested 52 people for holding an unauthorized rally in the northeastern city of Mashhad and for the destruction of the state property, local media reports.
US President Donald Trump has insisted that the Iranian government "should respect their people's rights, including the right to express themselves," adding that "the world is watching." US State Department spokeswoman Heather Nauert said the US "urges all nations to publicly support" the protesters.
The Iranian Foreign Ministry spokesperson replied however that "Iranian people give no credit to the deceitful and opportunist remarks of US officials or Mr. Trump."
Hossein Amir Abdollahian, the senior adviser to the Iranian parliament speaker, also told Trump treat the demands of Iranian protesters as aspiration of the entire nation.
"Mr. Trump don't get excited. People's economic demands are different to rioters. Iranians prefer national security & religious democracy as practiced by Islamic system over WH's [White House] terrorist & deceptive policies," Abdollahian tweeted, according to the Tasnim news agency.