Earlier in the day, Iranian President Hassan Rouhani stated that the country's "enemies" were "angry with the glory, success, and the progress of the Iranian nation and they have vowed to get the regional troubles into Iran."
"This regime tries desperately to sow hate between us. But they will not succeed. And when this regime finally falls, and one day it will, Iranians and Israelis will be great friends once again. I wish the Iranian people success in their noble quest for freedom," Netanyahu said in a video message, posted on the Israeli prime minister office's official Twitter account.
Netanyahu described Tehran's claims that Israel was among those inciting unrest in Iran as "laughable."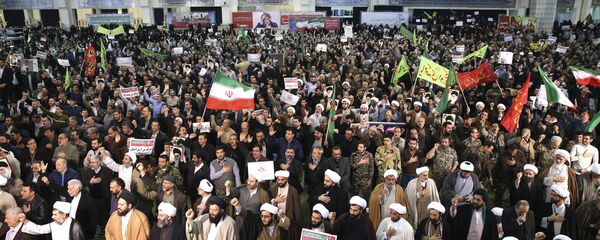 1 January 2018, 12:29 GMT
"I heard today Iran President Rouhani's claim that Israel is behind the protests in Iran. It is not only false. It is laughable… Brave Iranians are pouring into the streets. They seek freedom. They seek justice. They seek the basic liberties that have been denied to them for decades," the Israeli prime minister stressed.
Several major cities in Iran, including Tehran, Mashhad, Isfahan, and Rasht, were first hit by protests on December 28, 2017. Since then, people have repeatedly taken to the streets to protest against unemployment, poverty, and the rising cost of living.