Ali Shamkhani has blamed the United States, Britain, and Saudi Arabia for being behind the protests and orchestrating anti-government campaigns on social media, to stoke tensions.
"Based on our analysis, almost 27 percent of the new hashtags, directed against Iran have been generated by the Saudi government," Shamkhani said, adding that the interference was aimed at halting Iran's progress.
The protests will end "in several days," Shamkhani was quoted as saying by the Tasnim news agency.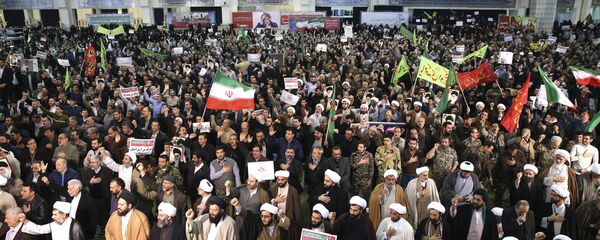 1 January 2018, 12:29 GMT
According to media reports, at least 20 people have been killed and many more injured in the mass street protests taking place in Tehran, Isfahan, Rasht, Masshad and several other major cities since December 28, 2017.
Explaining the popular unrest, President Hassan Rouhani cited domestic problems and foreign provocations. Other countries, meanwhile, have claimed that the protests are caused by Iran's internal problems.
"To deal with Iran's success in various fields, the enemies have outspokenly said that they would shift the problem to Tehran, which is their own message and has nothing to do with our analysis," President Rouhani said.
"The Iranian people have experienced such incidents and will also overcome these minor issues," he added.
READ MORE: 12 People Reportedly Killed in Iran Amid Nationwide Protests
The protests, the largest since the disputed 2009 presidential elections, started in the city of Mashhad, initially against price hikes, unemployment and corruption, but have since spread to a number of other big cities across the country.