The North Korean leader said in his New Year address that he always has a nuclear button on his desk, to which Trump replied on Twitter on Tuesday, saying that his nuclear button was "a much bigger & more powerful one than his [Kin Jong Un's]."
"The New Year address about nuclear buttons [of Kim Jong Un] and [Trump's] reaction to it turn serious politics into a parody devoid of reason and responsibility," Yarovaya said, as quoted by her press service.
The deputy speaker added that it would be better to see the security being ensured with the help of laws rather than force and helping establish "independent development and all peoples' right to happiness."
"It is important for the United States to remember that they have a special responsibility for how safe other countries feel from their aggressive pressure and dictate," the lawmaker stressed.
READ MORE: Trump Bragging About His 'Bigger Nuclear Button' Causes Twitter Meltdown
Deputy Chairman of the Russian Federation Council's Committee on Defense and Security Frants Klintsevich believes that it is beneath the United States to compare nuclear button sizes with North Korea.
"I think that it is undignified for the United States, as a great power, to compare the size of a nuclear button with North Korea, besides it is not the kind of argument that can convince its leader Kim Jong Un. We are all waiting for the Americans to put bigger cards on the table — reason and responsibility. Now, that cannot be trumped," Klintsevich said.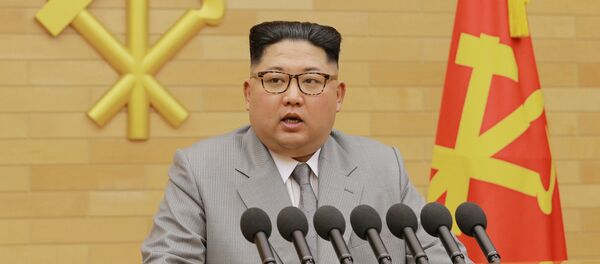 3 January 2018, 10:14 GMT
In 2017, the tensions ran particularly high between the United States and North Korea as Pyongyang kept pursuing its missile and nuclear programs, which concerned their neighbors and the whole international community.
Russia and China have been advocating a double freeze solution that would see Pyongyang halting its nuclear and missile tests, while the United States and its allies would give up on joint drills near the Korean Peninsula.